GreedFall Release Date Announced In Latest Trailer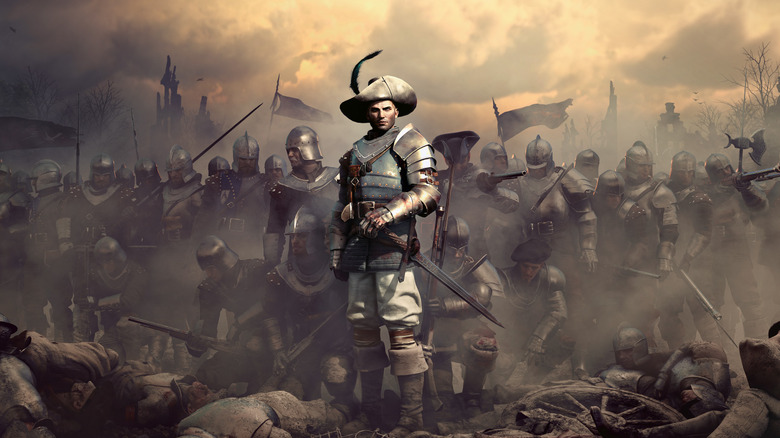 Focus Home Interactive has shared the release date for the upcoming action RPG GreedFall alongside a new trailer. The latest title from Spiders, the French developer behind The Technomancer and Bound by Flame, GreedFall transports players to an alternate version of the 17th century. Faced with pollution, overpopulation, and plague, the Congregation of Merchants ventures forth in search of new lands and a brighter future.
Advertisement
"Explore a fresh new world as – along with many other settlers, mercenaries and treasure hunters – you set foot on a remote island seeping with magic, rumored to be filled with riches and lost secrets," says the official website. "A grand journey filled with mystery follows, as you find yourself in the middle of ever-increasing tensions between the invading settlers and the locals, who are protected by manifestations of the island's earthly magic in the form of supernatural beings."
Today's Release Date Announcement trailer highlights GreedFall's many features through a series of cutscenes and gameplay. Driven to the mystical island of Teer Fradee in search of a cure for the Malichor plague, you'll face the many dangers of the untamed frontier, including wildlife, natives, and your fellow colonists. 
Advertisement
Politics will play a large role in how your adventure unfolds, placing an emphasis on dialogue and player choice. An extensive character creator, crafting system, and skill progression arc further personalize the game. For the more combat oriented, Spiders also promises a host of fantastical creatures to take on. "Everything, whether a dialogue option, choosing a stealthy approach, or even your choice of companion in a given situation may alter the outcome."
GreedFall comes to PlayStation 4, Xbox One, and PC on September 10, 2019. Pre-order the game to receive the Adventurer's Gear DLC Pack, which contains Explorer's Outfit, Rapier of the Alchemist, and Wild Boar Ivory Rifle.