The PS4 Hidden Trophy Feature That Was Unseen For Years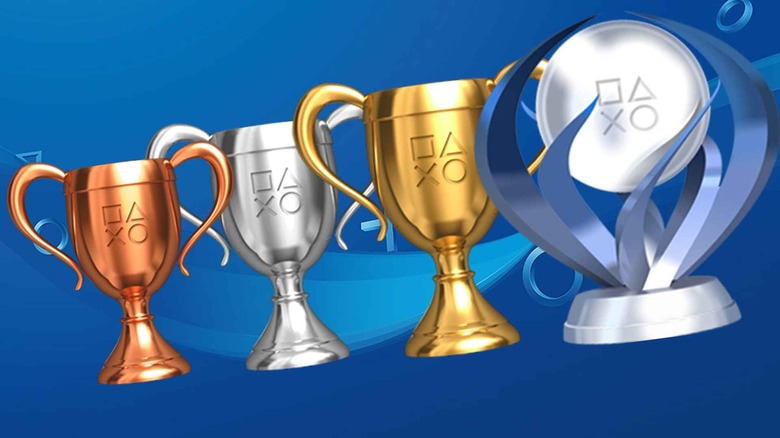 Over half a decade has passed since Sony released the PlayStation 4, it's eighth-generation home video game console. The system has evolved in the years following its November 2013 debut, polished by regular system updates, which includes an ongoing lineup of new features, bug fixes, and enhancements. While Sony has not kept these changes a secret, sometimes helpful additions slip through the cracks. One such feature has resurfaced, leaving many PlayStation fans reeling.
The feature in question pertains to the PlayStation 4's hidden trophies. Unlike normal trophies, these have their name and fulfillment criteria hidden to prevent important game details from being spoiled. Hidden trophies have existed since Sony introduced the PlayStation trophy system. In the past, you would have to research them online to uncover the fulfillment criteria or hope you stumbled across the secret organically, an approach that left many players frustrated. 
Earlier this week, a Redditor pointed out that you can view the details of a hidden trophy by selecting it from the list and pressing the square button. Though Sony added this feature in 2016 as part of PlayStation 4's 4.0 firmware update, the revelation blew the minds of even the most-seasoned PlayStation supporters. It has since received 27.5 thousand upvotes, leading PlayStation UK to reshare the tip on their Twitter page. The tweet collected over 720 comments, with most of the responses displaying similar levels of astonishment.
"After reading this thread it's a wonder I can even turn my console on," said one user. "37 platinum trophy holder reporting in here. This is news to me and I am f l o o r e d," said another. "You're a God," said a third.
Faced with the outpouring of awe and gratitude, both the Reddit post and tweet prompted PlayStation 4 players to point out other lesser-known features. According to one Redditor, you can bypass hours of aimless searching on your computer by pressing option once you've revealed a hidden trophy's details. This displays a "search internet" button that will bring up a web page with guides on how to obtain the selected trophy, an epiphany that led one user to question whether they're "even holding the controller correctly." 
Another Redditor pointed out that when charging your controller, the light will pulse more slowly the closer it gets to being fully charged. You can also swap between the last two screens you visited by double-tapping the PS button, though, a follow-up comment advised against doing this while a game is loading. This feature shines when chatting with other PS4 users, allowing you to cycle between the game and incoming messages without having to return to the home screen first. "This is even more mindblowing than the hidden trophies thing," said one response. "It looks like you have mastered the dark arts," joked another.
Twitter also had some insights to share. "In the accessibility options, you can enable an option that lets you press the PS Button + Square simultaneously to zoom in on the screen," responded one user, eliciting a chorus of thanks. 
Though the PlayStation 4 is hardly the new kid on the block, it seems the console still has some secrets left to uncover. Reading patch notes can prove tedious, especially since Sony releases regular software updates, sometimes up to twice a month. Considering how many users were unaware of a feature introduced almost three years ago, it makes you wonder how many gems of knowledge have gone unnoticed in change logs. 
The most recent patch, System Software Update 6.71, released on June 6, 2019. Though 6.71 centered on improving system performance, Sony introduced several new features in the previous update, version 6.50. This included Remote Play on iOS devices, allowing you to connect to your PS4 system from your iPhone or iPad. 6.50 also introduced the option to switch the button assignment to perform "Enter" operations from the circle button to cross button. Parents and guardians can also now monitor how much time their children have played and set daily time limits and restricted hours through Family Management.
For a more in-depth look at what other changes might have passed you by, head over to the official software update features list on the PlayStation website.