Tetris Effect Is Getting A PC Release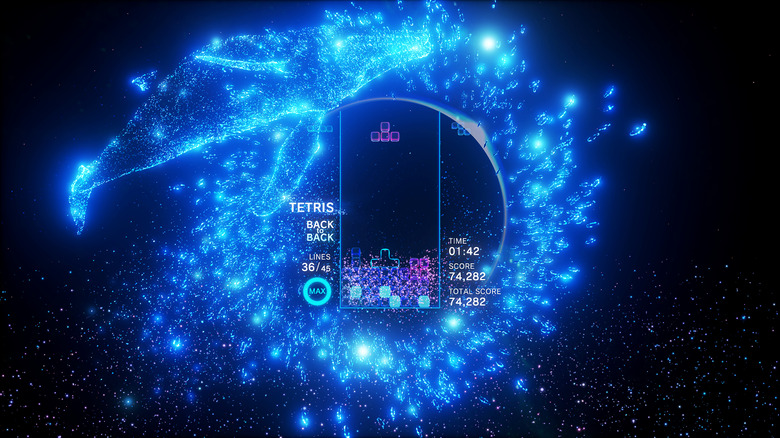 Tetris Effect, the surprisingly good PlayStation 4 puzzler that won piles of awards in 2018, will soon be playable on an entirely new platform.
Eurogamer — which coincidentally named Tetris Effect its game of the year in 2018 — is reporting that the title will be receiving a PC release next week, marking the first time Tetris Effect has been available on anything other than PS4. The game will come to PC by way of the Epic Games Store, which yes, is a story unto itself these days. But the good news is that those looking to enjoy everything Tetris Effect has to offer won't be missing anything in the Epic Games Store version.
VR will still very much be a thing in Tetris Effect for PC, with both Oculus and Vive headsets supported. The game will have the same incredible aesthetic; the same awesome tunes. And the PC version will even get a few benefits that the PlayStation 4 game didn't, including uncapped frame rates and support for some not-so-common resolutions and aspect ratios, like ultra-wide (21:9).
And Eurogamer is reporting that there are a few benefits for those who pre-order the game ahead of time on PC. To start, you'll get 20% off the game's price. But the tastier perk? You'll get a sample of the amazing Tetris Effect soundtrack, which itself won some awards from various bodies across the industry. Oh, and there are some desktop wallpapers, but let's be honest: someone would've posted those online eventually.

You'll be able to pick up Tetris Effect from the Epic Games Store on July 23. We'd love to tell you how much the game will cost — and how much the 20% pre-order discount will save you — but unfortunately, the game's page on the Epic Games Store has since been taken down. We imagine it'll be back up at some point and you'll be able to go check out the game and what it'll run you. Until then, you can watch the announcement trailer for the PC version of Tetris Effect and thank your lucky stars the game is finally going multi-platform.