Total War: Three Kingdoms' Eight Princes DLC Set 100 Years After Main Campaign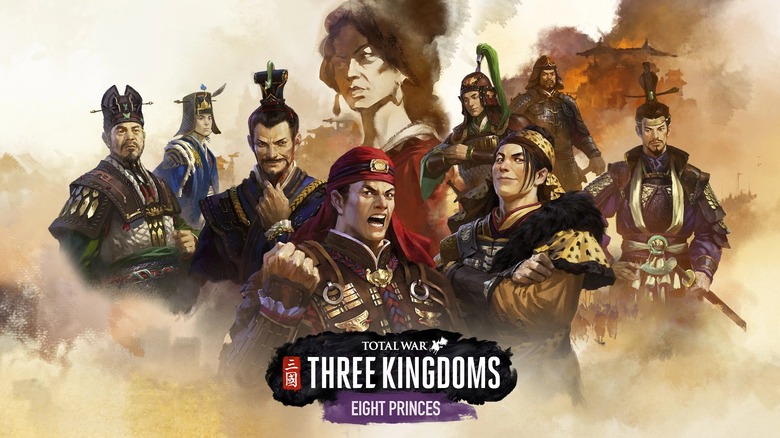 Back in May, Creative Assembly unveiled plans for a new DLC type for Total War: Three Kingdoms. Called "Chapter Packs," these expansions draw inspiration from the game's source material, Romance of the Three Kingdoms, adding new starting positions, characters, objectives, and features.
Today, the developer announced Eight Princes, the first Chapter Pack planned for the game. The DLC takes place in the Jin Dynasty, picking up 100 years after the Three Kingdoms storyline. As the name suggests, the expansion introduces eight playable princes enmeshed in a civil war that threatens the future of the Jin Empire. 
"The Jin is a dynasty divided," says the official description. "Its many ruling princes are hungry for greater power, each with ambitions – and methods – of their own. Eight stand above all others ... will they rally to their emperor and empress? Or carve a legacy for themselves that will echo through the ages?"
Each prince comes with their own faction, campaign mechanics, and playstyle. For example, Sima Yong, the "shrewd defender," focuses on defence and infrastructure while Sima Yue, the "imperial overseer," excels at politics and internal government. All the princes draw upon the five core character classes of the base game. For a comprehensive breakdown of each prince's specialies, check out the Eight Princes Steam page.
Beyond the new playable characters, the pack adds elite units like mounted archers and cataphracts. You can also shape your faction by choosing one of four new alignments: Wealth, Spirit, Might and Mind. Each grants different bonuses overtime while introducing themed events and dilemmas, including how the story plays out once you capture the emperor.
The Eight Princes Chapter Pack releases on August 8. Pre-order the DLC to receive a 10% discount. A free-LC will release alongside Eight Princes. Creative Assembly plans to announce the details about the free content on August 1.