Gears 5 Tech Test Now Downloadable On PC And Xbox One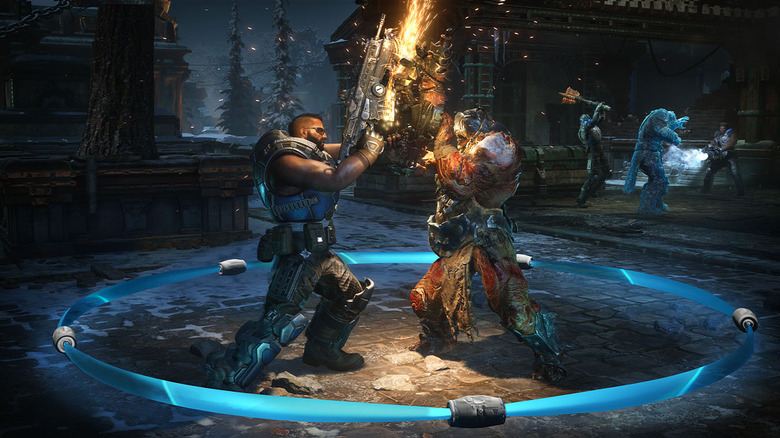 Want to get a jump on the Gears 5 Technical Test action? A limited version of the game — meant to flex the game's multiplayer servers a bit — is now available to download for Xbox Game Pass subscribers and pre-order customers on both PC and Xbox One.
Advertisement
TrueAchievements spotted the download first, and managed to provide some fairly detailed information about it on both of its platforms. To start, we should note that you can't actually play Gears 5 today. The first Tech Test runs from July 19-21, with a second planned from July 26-29. The download is up early so that you can get it installed before the test begins. No sneak peeks here.
But in terms of how much space it'll eat up on your hard drive, you shouldn't be too concerned. TrueAchievements states that the PC version clocks in at a mere 14.5 GB, while the Xbox One version is even smaller at just 12.42 GB. For those on an average-speed broadband connection, you'll likely have the Tech Test downloaded in about an hour, maybe less. So there's no need to panic if you can't get to it right away.
Advertisement
The Gears 5 Tech Test will give players access to a number of multiplayer modes when it starts up, including the game's new Arcade mode, Escalation, and King of the Hill. And there will also be a training ground, of sorts, where players old and new can get a feel for how Gears 5 has changed. We reported two weeks back about some of those changes; the Lancer's chainsaw being moved to the right bumper, for instance, as well as the game doing away with reticle bloom in favor of giving each gun a recoil pattern. Those will undoubtedly change the way Gears 5 feels when it plays, so if you're a seasoned vet and a constant presence in Gears multiplayer, you might want to jump into the Tech Test and try out the new mechanics.
The first round of the Gears 5 Tech Test opens on July 19 at 10 a.m. PT. We'll keep you updated should anything newsworthy come out of it.