Red Dead Online Offering Free Horse Care Package This Week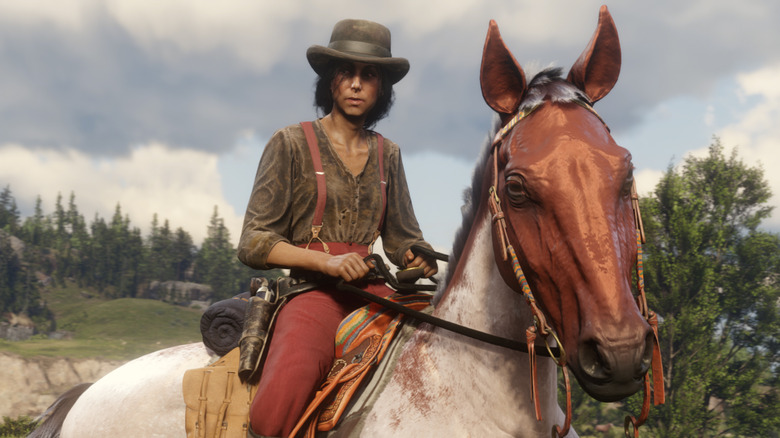 There's nothing quite like the bond between a horse and its rider. Saddle up for a free Horse Care Package, plus new clothing items, discounts, and more.
Everyone who plays Red Dead Online this week will receive a free Horse Care Package containing Horse Reviver, 2 Horse Medicine, 2 Horse Stimulants, 5 Oatcakes, 5 Hay and 5 Carrots. Horse Reviver is a must-have for your Satchel in case your steed becomes injured or incapacitated. Horse Medicine refills your horse's health, granting a gold outer bar. Horse Stimulant gives a gold outer bar to your horse's Stamina, making long rides much more viable.
Riders in the market for a new equine companion can take advantage of a 20% discount on Stable Spaces. Rockstar is also offering 20% off all horses under Rank 40 such as the Flaxen Roan Tennessee Walker. 
The latest update brings three permanent additions to the Wheeler, Rawson And Co. Catalogue. "Shield your scalp with the stylishly wide brim of the Descoteaux Hat, don some hardwearing hide from south of the border with the Alvarado Chaps and strap a pair of elegant Gerden Morrow Spurs to your boots to complete the ensemble," says the announcement. The fully lined Cossack Hat remains available for the rest of the week.
Twitch Prime members who link their Social Club account by Friday, July 19 will receive RDO$300. Even if you miss the deadline, you can still claim the Superior Ammo Bundle and future benefits planned for Red Dead Online and GTA Online. Head to the Red Dead Online Twitch Prime page for more information about linking your Twitch Prime and Rockstar Social Club accounts.
Rockstar once again teased the large summer update first promised back in May, stating that players could expect news in the coming weeks. The summer update will add the first three of a series of new roles: bounty hunter, trader, and collector. Each role will include unique gameplay features along with new outfits, weapons and other rewards to unlock.