Call Of Duty: Modern Warfare Shows More Of Its 2v2 Gunfight Mode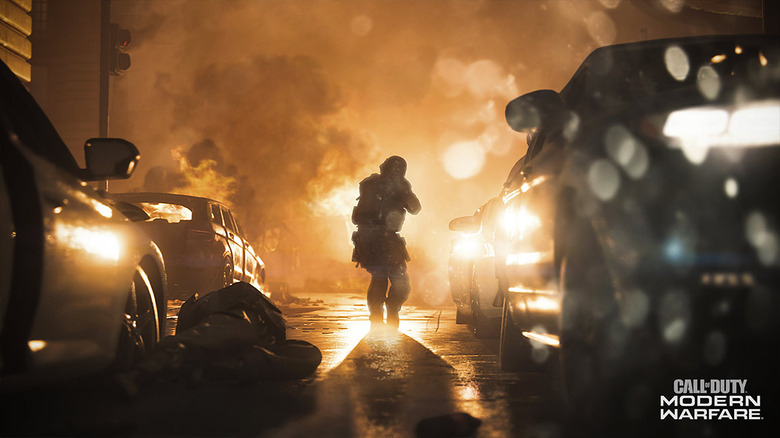 Are you amped for the release of Call of Duty: Modern Warfare? If not, some more footage of the game's new Gunfight mode might do the trick.
Developer Infinity Ward uploaded nearly six more minutes of the 2v2 multiplayer mode (thanks, Game Rant), and did so in 4K, giving us the sharpest look at yet at three of the maps coming to Gunfight later this year. There's a wooded area called Pine, which we've never seen before. There's also an outdoor facility full of shipping containers called Stack, which makes its debut in the footage. And lastly, there's King, the warehouse arena that we got a look at previously when Infinity Ward invited some Twitch streamers to play Gunfight.
Aside from the new maps, however, Gunfight looks largely the same played by (what we presume are) Infinity Ward employees as it did with the Twitch crew. Rounds are fast and furious. Kills come quickly. And being down a player against a team of two will either set you up to have the hero moment of a lifetime or — more likely — means you're on your way to a loss.
Gunfight is just one of the modes coming to Call of Duty: Modern Warfare. There'll also be a story-driven campaign; the kind of the Infinity Ward of old became known for. And you'll also be able to look forward to classic Call of Duty mutliplayer. Rumor has it that a battle royale mode — not unlike the one from Black Ops 4 — could be on its way to Modern Warfare, though we probably won't hear more about that until Infinity Ward has its full multiplayer reveal on Aug. 1.
Call of Duty: Modern Warfare arrives for PC, PlayStation 4, and Xbox One on Oct. 25. We'll report back should more multiplayer news break, or once we have the official scoop from Infinity Ward next month.