Ark: Survival Evolved - Valguero Update Hits PS4 And Xbox One Today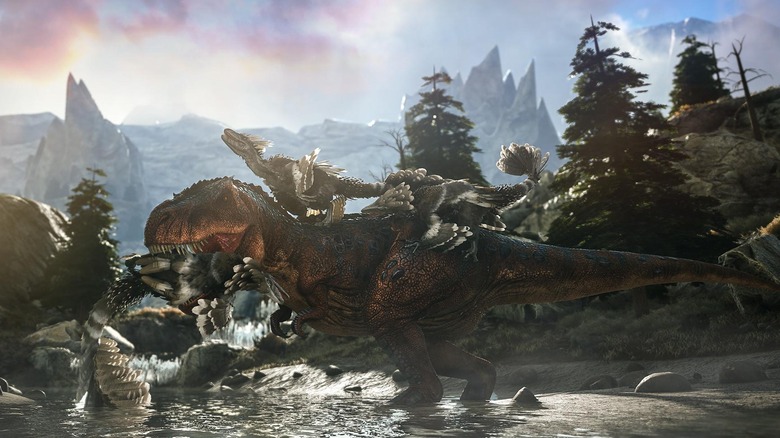 The Ark: Survival Evolved - Valguero update goes live on consoles today. The 63 km map features new biomes, challenging dungeon bosses to take on, and ruins to explore. A new environment-exclusive creature will also make its debut.
"Explore new heights and hidden depths; whether it's creating your foundations in the White Cliffs or unearthing the secrets of the Aberration Trench, Valguero offers a new experience in the ARK universe," reveals the official description. "Among its more than 60 kilometers, you'll find everything from lush jungles to environmental hazards, snowfields to lava flows, and savannahs to hot springs."
Valguero introduces eight new biomes, including: Skeleton Gorge, the Twin Peaks, and the Lost Temple.  With a strong emphasis on exploration, the map features a large network of caves for you to explore. Each territory comes with its own theme and perks. You can also head to the boss arena to face off against a Megaphiticus, Manticore, and Dragon in a vicious, triple lineup. 
Deinonychus, Ark's newest feathered theropod, bursts onto the scene, offering its own test of skill. "Similar to the raptor it uses speed and agility to leap wall ledge to wall ledge as it seeks high vantage points to lie in wait for its prey," said developer Studio Wilcard. "This contentious beast is fearless and will hunt prey much larger than itself, latching onto a larger dinosaur's back with its sickle-shaped claws, then starting to feed before its victim is even dead."
Besides Valguero, a new Evolution Event starts today and will run until 3 p.m. EST on Monday, July 22. Players on all platforms will enjoy 2x Harvesting Rates, 2x Taming Rates, and 2x EXP Rates.
The free map launched for PC on June 18, 2019. Players can download the Valguero update today at 10 a.m. PDT, 1 p.m. EDT, 6 p.m. BST, and 7 p.m. CEST on PlayStation 4 and Xbox One.