Anno 1800 Adds Crafting And Colossal Island In First DLC, Sunken Treasures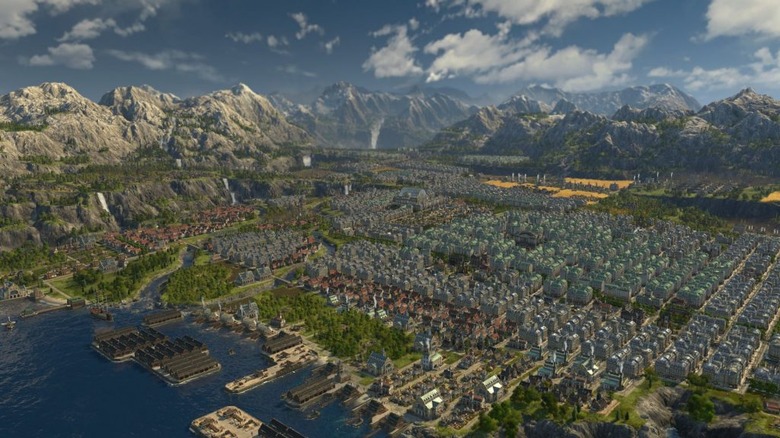 Ubisoft has announced the first DLC for city building real-time strategy game Anno 1800.
Set in the industrial boom of the 19th century, Anno 1800 calls upon your leadership and management skills as you build massive metropolises. From planning logistics networks to launching expeditions across the globe, you can dominate the competition via trade, diplomacy, or warfare. Boasting a story-based campaign, a customizable sandbox mode, and a classic multiplayer experience, the base game has plenty to keep you occupied.
The Sunken Treasures expansion adds an exciting new questline, unveiling Cape Trelawney, a whole new continental island. "The Queen has vanished! But you track her south to sunny Cape Trelawney, site of a great naval battle," reveals today's blog post. "In Sunken Treasures' new Storyline, you will set out on a journey to resurrect the glory of an empire through one of its timeless symbols, the Royal Scepter, lost to the depths during the war."
Three times larger than the main game's biggest islands, the new area comes with 300 grids worth of coast boasting fertile soil and resource rich mountain ranges. To complete your quest, you'll need the help of Old Nate, a genius inventor who has long lived in isolation with his own creations. Armed with his new diving bell steam ship, you'll salvage the resources he needs to complete his experiment by hunting down sunken shipwrecks.
Once you've loaded up on scrap, you can head to Old Nate's workshop and choose from a variety of blueprints detailing the creation of powerful contraptions. Using the new crafting mechanic, you'll assemble the items you need to build your city. "With the new crafting system, we wanted to provide you with a tool to create the items you truly desire," explained the developers. "The new crafting system becomes especially valuable in the endgame and we cannot wait to see how veteran Anno players will take advantage of the new possibilities to maximize the potential of their empire to levels previously impossible."
Sunken Treasures launches alongside Game Update 4 on July 30.