Borderlands 3's Creative Director Wants The Rock To Voice Claptrap In Upcoming Film Adaptation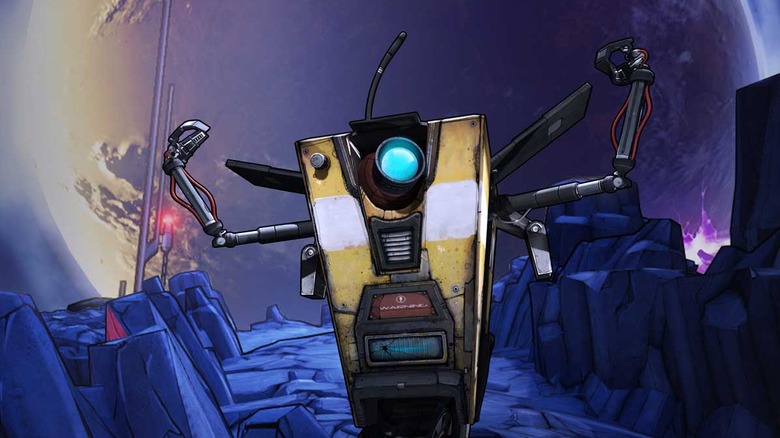 The Borderlands 3 team has pinned their hopes on a specific casting choice for the upcoming Borderlands film adaptation.
Announced back in 2015, a Borderlands movie is in development at Lionsgate, with father-son duo Avi and Ari Arad producing the project. The pair have helped establish film franchises for Iron Man, Spider Man, X-Men, and Blade and look to do the same with Gearbox's popular shooter franchise. Though Aaron Berg created the original draft of the script, Oren Uziel, the screenwriter behind The Cloverfield Paradox and the upcoming Mortal Kombat reboot, has taken the reins on the story.
Advertisement
According to Full Circle, the plot will center on Lilith, a "legendary thief" imprisoned by the Atlas Corporation. The CEO of the company offers her a chance to earn her freedom by rescuing his daughter, Tiny Tina, on the planet Pandora. Based on the synopsis, the movie seems to be veering away from its source material, in which Lilith is a vault hunter and siren, not a thief. Tiny Tina is also not the daughter of the Atlas Corporation's CEO; rather, she is orphaned due to Handsome Jack's eridium experiments.
Despite Lionsgate playing fast-and-loose with the narrative, the movie will include several familiar faces from the videogame, like Mad Moxxi, Krieg, Sir Hammerlock, Dr. Patricia Tannis, and fan favorite Claptrap. When asked who he would like to play the vault hunters' robot companion, creative director Paul Sage was quick to respond. 
Advertisement
"Who could play Claptrap? Our audio guys would tell you, 'Hey, we can make anybody Claptrap," Sage told VG247. "I think The Rock. Yeah, The Rock has to play Claptrap!"
Dwayne "The Rock" Johnson has an established film career, with his next project, Fast & Furious Presents: Hobbs & Shaw, coming to theaters on August 1. No stranger to voiceover work, Johnson portrayed Maui in Disney's Moana. Should Johnson take on the role of Claptrap, it would likely be in a similar capacity to Vin Diesel's portrayal of Groot in Guardians of the Galaxy. Vin Diesel provides the voice, with the character brought to life through a combination of visual effects, actor stand-ins, and dolls.