Dragon Quest 11 S Will Include Solo Stories For Each Party Member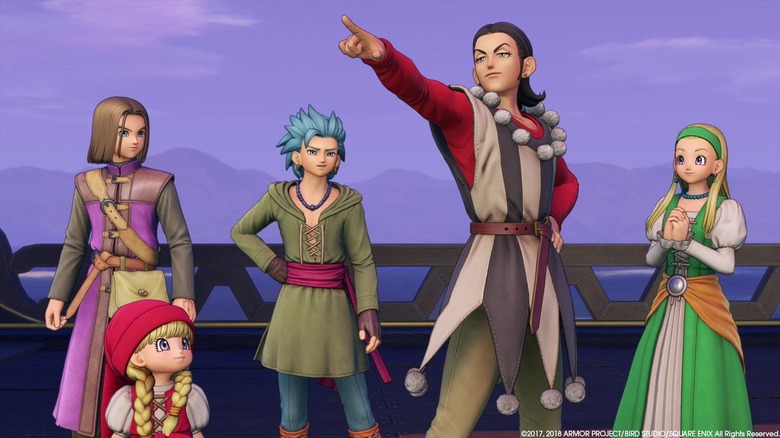 Dragon Quest 11: Echoes of an Elusive Age, the latest entry in Square Enix's Dragon Quest series, launched in July 2017. The title received critical acclaim, with Kotaku's Tim Rogers naming it both the best game in the franchise and one of the best games he had ever played. 
Featuring a main quest that spans about 80 hours of gameplay, plus post-game content that can push that number into the triple digits, Dragon Quest 11 is a hefty game. Dragon Quest 11 S: Echoes of an Elusive Age – Definitive Edition, the Switch port announced during this year's E3 Nintendo Direct, promises to expand on that sizable foundation.
A recent update from Square Enix on the official Dragon Quest 11 S website sheds some light on what fans can expect from the Switch version of the game. Featuring new screenshots and information, the update revealed that each party member will star in their own, unique storyline. 
"Go on an adventure where each character becomes the protagonist of their own story," says the new description. "Talk to people, explore, find treasure, and fight against formidable foes in a unique new story experience."
As part of these side stories, you can control each party member and take down exciting new bosses. They will either build their own party composition as the tale unfolds or embark on a solo mission. 
Square Enix teased the content of some of these new narratives:
Erik and the Mysterious Partner: After being imprisoned in the monsters' hideout, Erik plans his escape with an unexpected ally – a healslime named Homirin.
The Traveling Performer of Hope: While visiting Gondolia, Sylvando encounters the victims of a group of thieves. He decides to intervene and help turn the tables.
The Noble War Princess Jade: Booga imprisons Jade in another world during her trip to Octagonia, forcing her to fight for her freedom.
Rab and the Kingdom of Fortune: Rab chases a bunny into a mysterious and nostalgic world.
Dragon Quest 11 S: Echoes of an Elusive Age – Definitive Edition launches on Nintendo Switch on September 27.