Call Of Duty: Modern Warfare Teases Gunsmithing System Ahead Of Multiplayer Reveal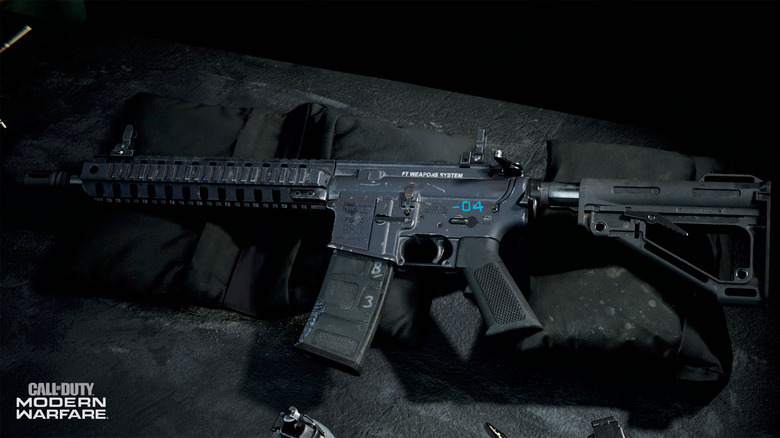 With Call of Duty: Modern Warfare's Multiplayer Universe Gameplay Premiere just over a week away, Activision teased a new feature coming to the game: gunsmithing.
According to today's blog post, gunsmithing offers "a robust weapon customization option" for your primary and secondary loadout weapons. The new system offers an array of options to choose from, including suppressors, optics, and stocks. This allows you to tailor your style and approach for each multiplayer mode.
You can customize up to five parts of each weapon, though many will have over five slots available, forcing you to make strategic choices. Assault rifles, for example, feature nine augmentable areas: the muzzle, lasers, optic, stock, rear grip, magazine, underbarrel, barrel, and a perk. For a look at some upcoming customization options, check out the video shared today on the Call of Duty Twitter page.
On July 18, Infinity Ward unveiled almost six minutes of raw gameplay footage showing off Gunfight, a new fast-paced, close quarters, 2v2 multiplayer mode coming to Modern Warfare. In Gunfight, you'll engage in multi-round cage matches, with the loadout switching every two rounds. Each round lasts 40 seconds, at which point Overtime initiates, spawning a flag if players are still alive on each side. To secure victory in Overtime, you'll have ten seconds to capture the flag or eliminate the other team; otherwise, the duo with the highest health takes the round. The first duo to win six rounds wins.  
The preview elicited a hopeful response, with many commenters praising the graphics, recoil, and satisfying weapon sounds. According to the developer, Gunfight represents a fraction of what the game has in store.
The full reveal of Modern Warfare's multiplayer mode will take place on August 1 on the Call of Duty Twitch channel. The game itself comes to Windows, Xbox One, and PlayStation 4 on October 25, 2019.