PDP Rolls Out New Nintendo Switch Controller With Audio Jack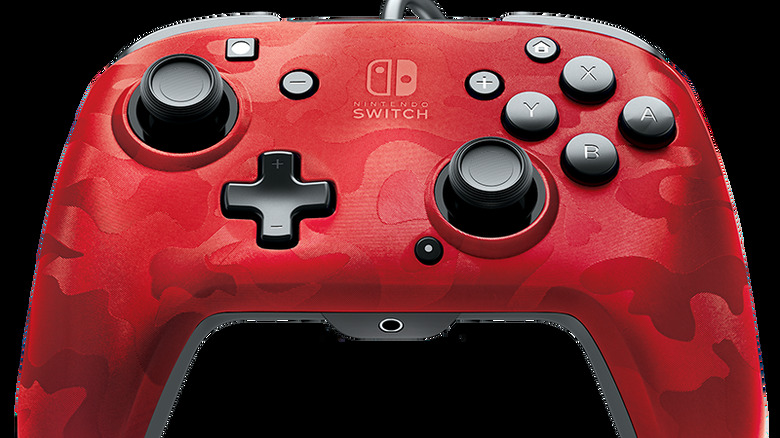 The Nintendo Switch is a fantastic little machine, but in 2019, the lack of audio jacks on its Joy-Con Grips and Pro Controllers is unforgivable. Fortunately, third-party peripheral maker PDP is stepping in to solve that problem.
According to Kotaku, PDP is now selling a new Pro-style controller called the Faceoff Deluxe+. It's a wired gamepad, not unlike the many PDP already sells for the Nintendo Switch. But if you look down at the very bottom of the controller, you'll see something glorious; something that, if you primarily play on a Switch, you might've never seen before.
It's an AUX jack, meant for relaying game audio from the Nintendo Switch to your headset of choice. It's been present on Xbox One and PS4 pads for many years, but now you can have one on your Nintendo Switch controller. Finally.
There are a few other things to appreciate about the Faceoff Deluxe+, aside from its audio jack. We'll never knock a true d-pad, which the controller does indeed sport. That d-pad, when used in conjunction with a special button at the bottom of the controller, can be used to adjust your headset audio up and down. There are programmable back paddles, which you can presumably map to any buttons you choose. And lastly, the plus and minus buttons have been put in more comfortable spots, switching places with the home and screenshot buttons. This is a small but important quality-of-life change; if you use a Switch Pro Controller, you'll often find your thumb can more reliably locate the home button, rather than the plus button, which typically gets more use.
It appears you'll have to make some sacrifices for the Faceoff Deluxe+. It's a wired controller, which means you'll have a cord to contend with. You'll also lose out on motion controls and rumble. But at $25, those might be reasonable cuts if you're desperate to play your Switch on a TV without disturbing the rest of your household.
The PDP Faceoff Deluxe+ is on sale now.