Horizon Chase Turbo's First DLC Brings Fresh Summer Vibes To PlayStation 4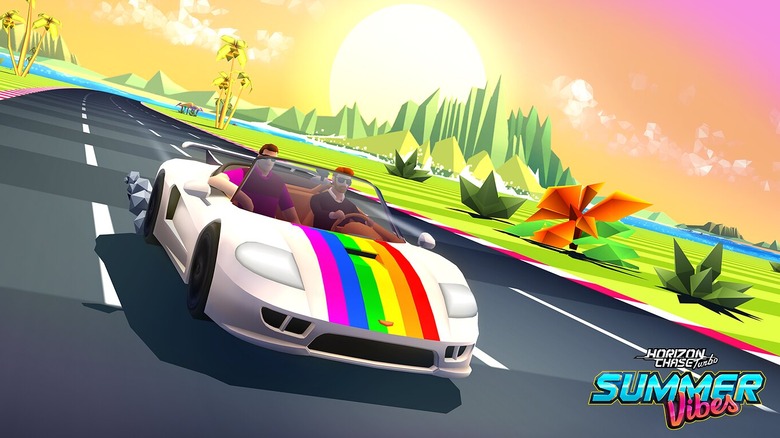 Summer Vibes, the first DLC for old-school arcade racer Horizon Chase Turbo, released on PlayStation 4 today.
Horizon Chase Turbo aims to recreate the thrill of 80s and 90s classic arcade racers but with a modern twist. "Horizon Chase Turbo is a race around the world," says the official description. With each new cup, you'll pilot your car through extraordinary places, watching the sun setting, facing rain, snow, volcanic ashes and even severe sandstorms. Be it day or night each track takes place in beautiful postcards from across the world."
Through the Summer Vibes DLC, Brazilian developer Aquiris hopes to evoke memories of balmy summer nights spent on the open road. The expansion adds several new features, including Breeze, the game's latest vehicle. The convertible has five skins, with a new skin unlocking whenever you finish a race in third place or higher. A tribute to iconic arcade roadsters, Breeze may seem familiar to arcade racer veterans. Anyone who purchases the DLC can show off their acquisition in 12 remixed races based in the main campaign. Each race comes with a leaderboard so you can see how you measure up to other players.
Horizon Chase Turbo released in 2018 to general acclaim, pulling in positive reviews across all platforms. The base game features 12 cups, 48 cities, 109 tracks, 31 unlockable cars and 12 upgrades with 4K graphics and a split-screen multiplayer that supports up to four players. "Of all of the retro revival games that have come out over the past few years, it is near the top of my personal list of favourites," wrote Destructoid's Joel Peterson. "I can't get enough of it... there is a real addicting 'one more race' quality to the game."
 Summer Vibes will come to Switch, Xbox One, and Steam later this year. PlayStation 4 players can purchase the DLC now for $1.99.