Free Jump Force Update Will Make Villains Kane And Galena Playable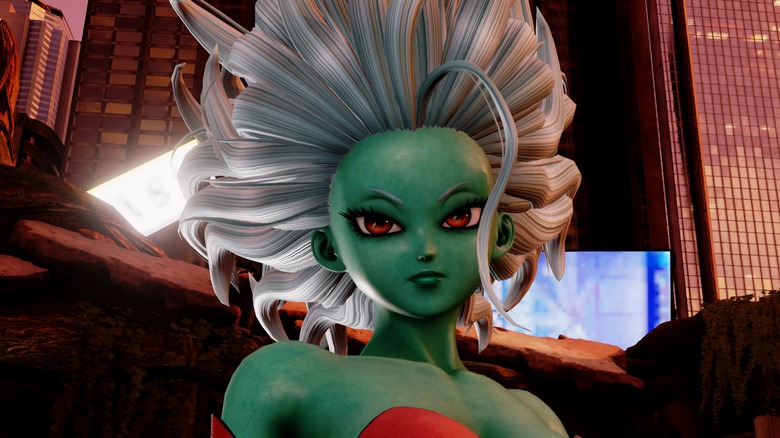 A new patch for Bandai Namco's crossover fighting game Jump Force will release this week, adding two highly anticipated playable characters.
Jump Force launched worldwide on Windows, PlayStation 4, and Xbox One on February 15, 2019. The 1-v-1 fighter released with 40 player characters gathered from across 16 popular manga series, including Bleach, Dragon Ball, Naruto. The first Season Pass introduced nine additional characters via downloadable content. You also have the option to create your own characters that are customizable using abilities, outfits, and accessories unlocked through gameplay.
Advertisement
Beyond the crossovers, Jump Force launched with four original characters: Navigator, Director Glover, Galena, and Kane. Much to the disappointment of fans, story-mode villains Galena and Kane were unplayable; however, that's about to change with the incoming free update.
Due "the week of July 22," Patch Ver1.10 and Ver1.11 will add Kane and Gelena as playable fighters alongside the new Type D sword fighting style. Two promotional events are also on the way: Vertex and a new Raid Boss. Vertex runs from July 24 thru August 7 (depending on your time zone) and will pit clan against clan in a race to gather Clan Points. You can earn Clan Points by battling, purchasing items, and completing challenges. Based on your performance, your clan will either be promoted or demoted at the end of the event, with participants awarded Umbra Cubes.
Advertisement
The Raid Boss Event will take place during the same time period, featuring a Raid Boss weak to fire. You can unlock various rewards, including costume items, Umbra Cubes, Event tickets, Attack Boosts, and Health Boosts. To participate you must be part of a clan and have Event Tickets which can be purchased from the Shop. Defeating Raid Bosses will earn you Event Points, which you can use to compete with other players and unlock rewards.
The free update will go live in the coming days on Xbox One, PlayStation 4, and PC.