Spider-Man Gets The GTA Treatment He Always Deserved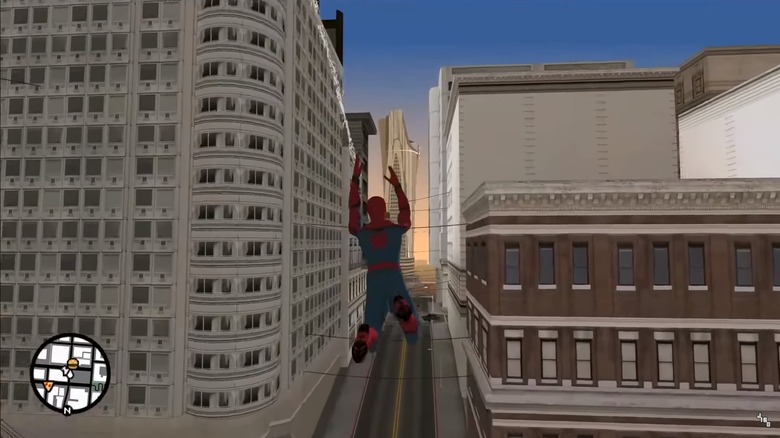 Four years and a dream; that's what it took to bring this latest Grand Theft Auto: San Andreas mod to life. Now Spider-Man is swinging around in an entirely new city.
This new mod, created by longtime San Andreas modder J16D, is about as close as you'll get to Rockstar making a video game centered around the web-slinging superhero (unless you know something we don't). And according to Kotaku, the idea actually came to J16D all the way back in 2015. He's been working to perfect it ever since, and what you see in this video here is what he's been able to put together thus far.
If someone at Insomniac Games hasn't already given J16D a call, they're probably searching feverishly for the modder's contact information at this very moment.
The mod looks fairly impressive for an independent effort. The swinging is right out of 2018's Spider-Man game; the one that perhaps did it better than any other. The flips in between jumps are vintage Spidey. And we actually really dig the art style used for the character himself. In a realistic-looking San Andreas, Spider-Man has a more cartoon feel to him.
Oh, and did we mention there are different Spider-Man outfits one can wear? We wonder what this mod would've looked like had Insomniac not released such a stellar Spider-Man game. But we can't knock J16D for borrowing all of the best parts from it.
Kotaku writes that J16D does intend to bring this mod to everyone at some point, but for now, it's still under wraps. By the time it does release to the public, though, Spider-Man could be capable of far more. J16D reportedly wants to add wall running and better textures, so that's at least something to look forward to.
Until then, you'll just have to watch this video on loop. And keep in mind, it could be awhile until we get a proper Spider-Man follow up. But we might get to swing around San Andreas sometime sooner than that. And that's something.