Ninja Ditches Twitch For Microsoft's Mixer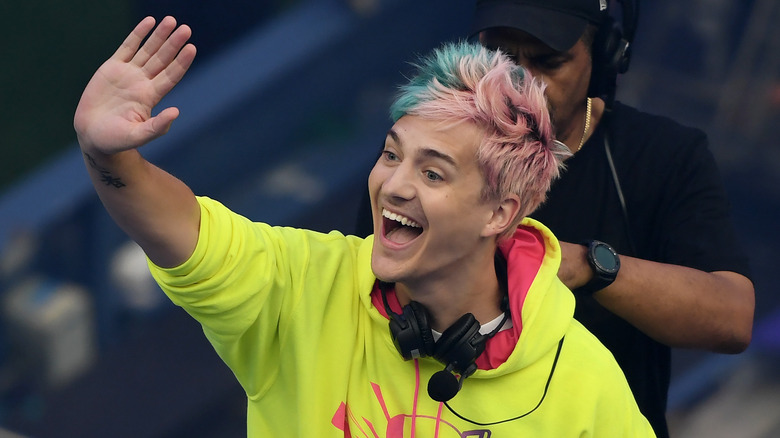 Sarah Stier/Getty Images
Ninja is saying goodbye to Twitch. After getting his start on the video game streaming platform, Ninja — the esports pro-turned-internet entertainer — is now setting sail for Microsoft's Mixer, a Twitch competitor that now has its first major superstar.
"I have been holding on to this for quite some time, and I'm just super excited to let everyone know," Ninja said in a video shared online. "I'll be streaming on Mixer full-time now and I'm honestly at a loss for words. I'm freaking out in the best ways. I feel like I'm going to get back to the streaming roots."
Why is Ninja leaving Twitch, though? In all likelihood, it comes down to the money.
While we can't say for certain whether Microsoft offered Ninja some kind of financial incentive — a "signing bonus" if you will — Ninja could still make more money on Mixer, provided he's able to pull in the same number of viewers. Twitch pays partnered streamers a cut for both the subscribers they sign on (somewhere around $2.50 per subscriber), as well as any ad revenue they generate from non-subscribed viewers. And Mixer pays streamers in much the same way, for both subscribers and those viewing without a subscription.
But there are two key differences. Mixer doesn't actually run ads, but pays streamers a CPM rate (cost per thousand impressions) anyway. This means viewers aren't stuck watching ads, and can spend more time engaging with the streamer. And it means streamers can still profit off of free viewers.
Not only that, but Mixer offers a feature called Sparks, which credits all Mixer viewers with a sort of virtual currency that they can donate to their favorite streamers. Those Sparks, when given to a streamer, convert into real money. So Mixer essentially gives away money that its users can then offer up as gifts, earning streamers even more on the platform without needing users to pony up for a subscription.
It's often been speculated that the reason Mixer hasn't taken off is because it's lacked star power. Some believed that one big name — a Ninja or a Dr. Disrespect, for example — could turn the tide and make Mixer more of a serious competitor. We'll have to see if that theory holds up. In the meantime, though, you'll be able to catch Ninja over on Mixer starting today.