Call Of Duty: Modern Warfare Could Have Battle Royale After All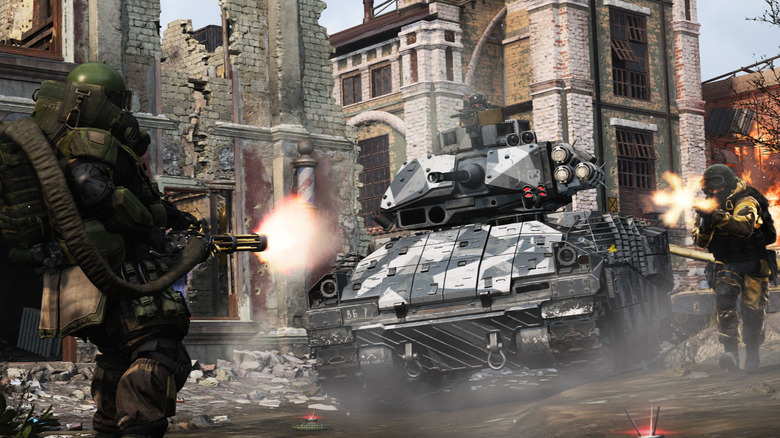 We're all very confused at this point as to whether or not Call of Duty: Modern Warfare will sport a battle royale mode. But no one seems more confused than Infinity Ward itself, which has both closed and re-opened the door for battle royale in the course of a few days.
Advertisement
Back on Aug. 2, IGN spoke to the game's multiplayer design director, Joe Cecot, who seemed to suggest that battle royale wasn't a part of the plan.
"We really focused on Modern Warfare, authentic and gritty, realistic weapons, and it's a different experience," said Cecot. "It's really...just about pulling back to Modern Warfare and keeping that pure."
A recent interview Game Informer conducted with Infinity Ward art director Joel Emslie, however, makes it sound as though a battle royale mode is more possible than previously thought. When asked by Game Informer's Ben Hanson about his favorite multiplayer mode in Modern Warfare, Emslie's answer and his body language appeared to tease more.
Advertisement
"My favorite, personal favorite is Ground War," Emslie said. When pressed on why, he responded, "I like larger player counts," as he stuck his pinky up to his lips, Dr. Evil style.
A few moments later, Hanson came back around to follow it up by asking if Modern Warfare would have a battle royale mode. And Emslie's answer, again, felt like a tease.
"We'll have to wait and see," Emslie answered after a long pause, smirking. "I personally like that game mode."
So there you go. We're a little more than two months out from the release of Call of Duty: Modern Warfare, and when it comes to battle royale, the messaging is as clear as mud. Modern Warfare could have a battle royale mode, if you read into Joel Emslie's answers and his body language. Modern Warfare could also not have a battle royale mode, if you put more stock in what Joe Cecot had to say. It's possible we'll get a definitive answer on the subject as we get closer to Modern Warfare's launch date; then Black Ops 4 owners will finally know whether or not they can leave Blackout behind.
Call of Duty: Modern Warfare comes to PC, PlayStation 4, and Xbox One on Oct. 25, 2019.