Yes, Ice-T Is Really Voicing A Teddy Bear In Borderlands 3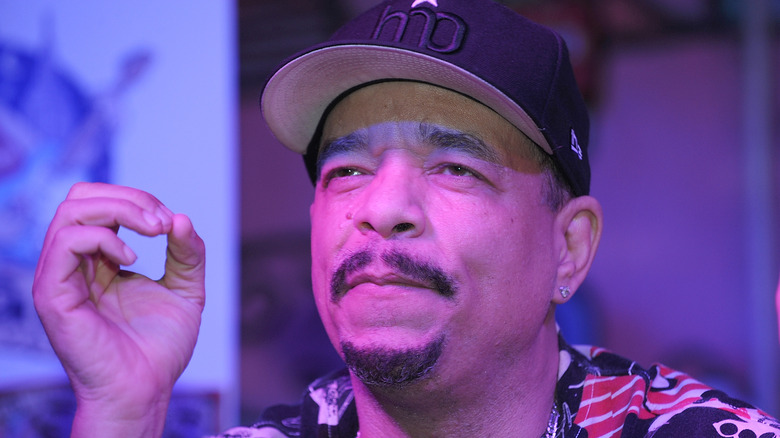 Brad Barket/Getty Images
Rapper. Actor. Destiny aficionado. Ice-T wears many hats, but none quite as strange as the one he'll be donning for Borderlands 3. In this long-awaited title from Gearbox Software, Ice-T is going soft. By that, we mean he's inhabiting the body of a teddy bear. The plush kind.
PC Gamer got some exclusive footage of Ice-T's role in Borderlands 3, which — if you're not averse to spoilers — you can watch here. And those expecting the rapper-slash-actor to essentially play himself will not be disappointed. The character he's voicing — named Balex — is actually an artificial intelligence that's been stuffed into a teddy bear, having previously been the navigation system for a ship that's long since been abandoned. We don't want to venture too far into the rest of the story (since you might want to play the game after all) but we'll say this: Balex did not choose that teddy bear as a body. And the mismatch is obvious.
We reported all the way back in March that Ice-T might be involved with Borderlands 3 somehow, but the lone source was actually Ice-T himself stirring up that rumor. We'll naturally assume going forward that anytime Ice-T teases himself as potentially being in a video game, we can take that money to the bank. It's not the first game the star's been a part of, having done voice work for titles like Gears of War 3 and Grand Theft Auto: San Andreas. But Balex is... well, he definitely fits the Borderlands universe. That's for sure.
Since Borderlands 3 isn't out yet and only a few outlets have gotten their hands on it, we can't say for certain how much of a role Ice-T's character plays. If we had to guess, however, it's probably not a substantial one. He's a busy man, still chasing down bad guys in Law & Order: SVU by day and playing Destiny 2 at night. Is there time for anything else?
Borderlands 3 comes to PC, PlayStation 4, and Xbox One on Sept. 13, 2019.