The Real Reason Sega Took A Hands-Off Approach For Sonic Movie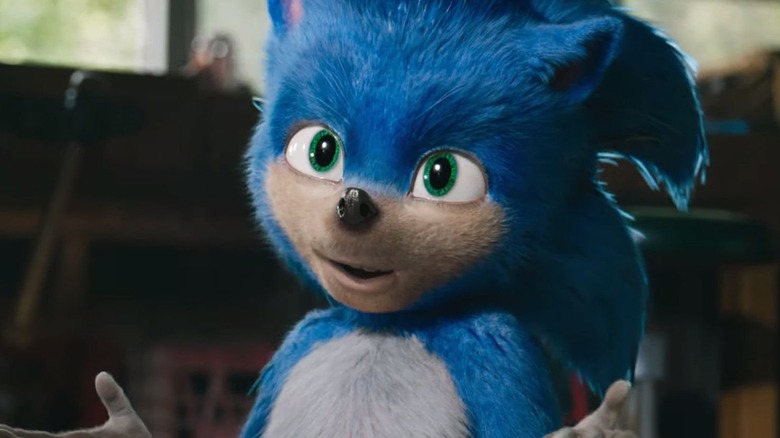 The upcoming Sonic the Hedgehog movie has proven far more polarizing than anyone expected. Fans expressed their outrage after Paramount unveiled the iconic character in the first trailer back in April. In response to the criticism, director Jeff Fowler promised a full redesign and Paramount pushed the release back three months.
Sega Europe COO and president Gary Dale shared his thoughts on the redesign. "I think everybody's just keen to do the right thing," said Dale. "Paramount has been open to listening to feedback from the community around Sonic, which of course has got such a tremendously loyal fanbase with people with very specific views of who Sonic is, how Sonic should behave, how Sonic should look. And I think Paramount has taken a lot of that on board."
Despite the stumbling blocks the film has encountered, it seems Sega has taken a more hands-off approach to the adaptation than other game studios. "This is a film. I think the idea that you try to control Paramount would be the wrong approach," continued Dale. " Over the years, I look at the success of game franchises in film and it's very mixed. The idea that games makers can control the process and create great movies... I don't know if that's true or not."
Ben Schwartz voices the title role in Sonic the Hedgehog which also features the talents of James Marsden as Tom Wachowski and Jim Carrey as Dr. Robotnik. Carrey expressed his reservations following the public outcry that led to Paramount's decision to change Sonic's appearance. 
"I don't know how quite how I feel about the audience being in on the creation of it," Carrey said."The collective consciousness decides it wants something and then when it gets it, 'I just wanted it, I didn't care about it. I just jumped on the bandwagon.' Ownership of anything is going out the window for all of us."
Sonic the Hedgehog lands in theaters on February 14, 2020.