Here's How Much LazarBeam Is Worth Now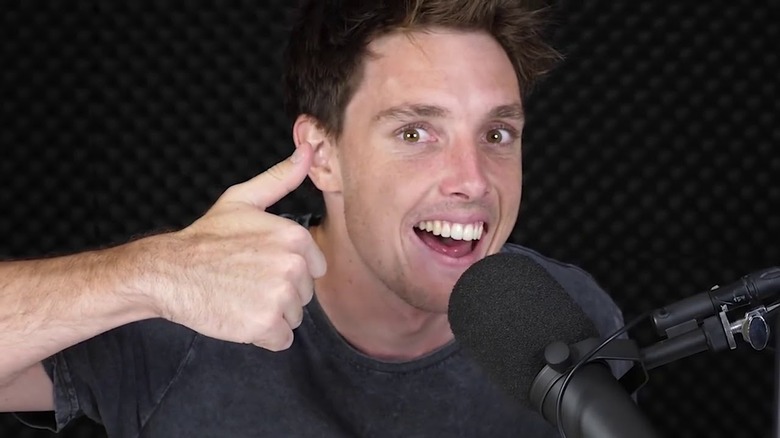 Lannon "LazarBeam" Eacott has accomplished quite a bit in the past few years. He dropped out of school and started a YouTube channel. He watched that channel become a massive success. Now he's slowly but surely building out his media empire, expanding into the world of Twitch, for example.
Whether you're a fan or not, though, you're probably wondering what LazarBeam is earning these days from his various ventures. Here's how much LazarBeam is worth now.
Our numbers come from Naibuzz, which last estimated LazarBeam's net worth back in May 2019. At that point in time, the website reported that LazarBeam was worth approximately $7 million. That's a pretty substantial figure for a YouTuber, and it speaks to how profitable his channel has been over the past few years.
At the present, LazarBeam's YouTube channel has over 11 million subscribers, and it's believed that he pulls in roughly $26,000 a day from the channel. LazarBeam also earns income through Twitch (where he streams occasionally) and via sponsors. Streaming isn't LazarBeam's primary delivery system for content, however, and we aren't privy to the deals he's struck with sponsors. So it's tough to say how much he's making from those other revenue streams. But seeing as he's already making a lot of money on YouTube, it's safe to assume his videos on the platform are the source of most of his income.
And it appears LazarBeam will continue riding that YouTube money train. A quick glance at his channel shows that he's still uploading videos regularly, focusing largely on Minecraft and Fortnite. And he's even made some videos with PewDiePie and Ninja recently, enabling him to expand his audience further. At press time, there is a new Madden game out, and we're not seeing that anywhere on LazarBeam's channel. So it appears he's since left the Madden life behind to play more YouTube-friendly titles.
We'll update you should we get new figures for LazarBeam's net worth.