How Long Does It Take To Beat Astral Chain?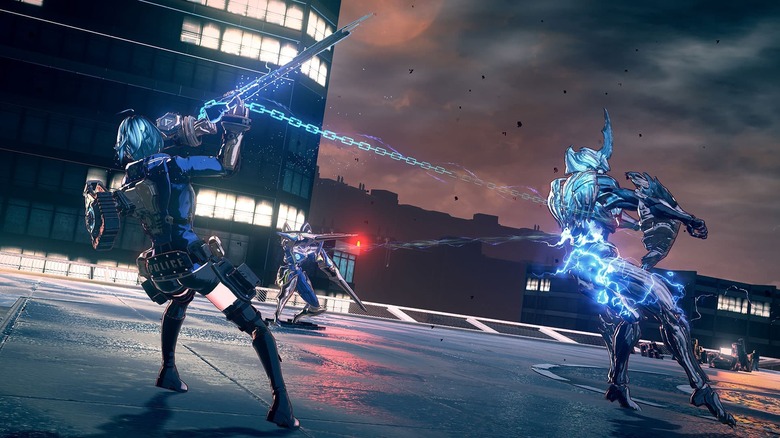 Astral Chain is set to drop tomorrow on Nintendo Switch, giving fans of games like Bayonetta another PlatinumGames experience to check out. It'll cost a full $60, though, so if you're someone who wants to get a decent amount of playtime for your dollar, you might be wondering how long the game takes to complete. Don't worry: we've got you covered.
To figure out how long it takes to beat Astral Chain, we dug into some of the game's reviews and noted the campaign completion times. Kotaku, for instance, stated that "the main game and tons of side quests and optional content" could be knocked out in roughly 18 hours. RPGSite took a longer period of time to finish the campaign, reporting that Astral Chain is a 30-hour game. GameSpot clocked 35 hours of gameplay after completing both the main questline and as many side quests as the site could find. AllGamers estimates the average playthrough for most to be somewhere between 12 and 18 hours. And Twinfinite believes that you can finish Astral Chain's story in 10 hours, or 24 if you take your time and explore the world.
So yeah: a lot of very different numbers there. What do we do now?
We decided to take the numbers provided above and average them out. The result: Astral Chain should take most people around 23 hours to complete if they're running through the main story and hitting some side quests along the way.
Astral Chain has been receiving fairly impressive reviews thus far, with IGN even claiming that it "might be the best-looking game on Switch." We haven't had a reason to dislike anything PlatinumGames has made to date, so you can rest assured our Switches are all charged up and ready to go for the game's release tomorrow.
Then we'll be searching far and wide for Bayonetta 3.