Fortnite Season 10 Blockbuster Mission Objectives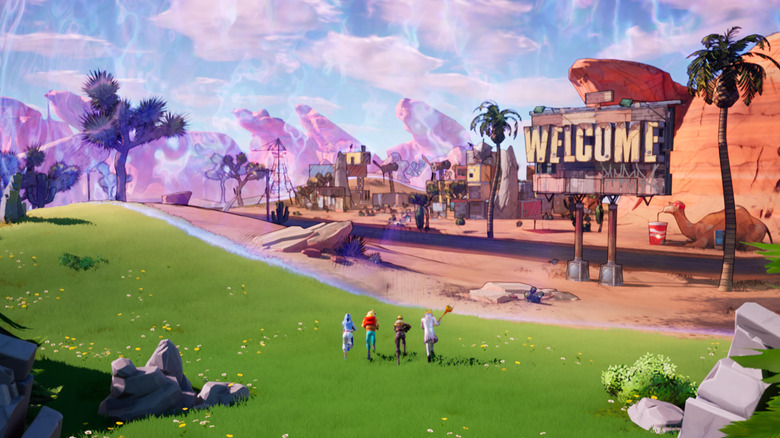 It's Thursday, and you know what that means: one more day until Friday! Oh, and the newest Fortnite Battle Pass Mission has arrived, too. It's called Blockbuster, and true to its name, it'll have you heading over to the Block to farm some materials while also completing a number of other objectives.
We've gathered the mission objectives for you below. Fortunately, they all seem fairly straightforward and easy to complete.
Normal Mission Objectives:
Land in Dusty Depot, then visit the Meteor in a single match
Harvest materials at the Block (300)
Land at a run down Hero Mansion and an abandoned Villain Lair
Deal damage while being affected by low gravity (250)
Search between a basement film camera, a snowy stone, and a flashy gold big rig
Consume fruit, mushrooms, or glitched foraged items (10)
Claim vending machines in different matches (3)
Prestige Mission Objectives:
Eliminations at Dusty Depot or the Meteor (3)
Search chests or ammo boxes at the Block (7)
Search chests at an abandoned Hero Mansion or Villain Lair (7)
Deal damage with explosive weapons (500)
Search between a rotary phone, a fork-knife, and a hilltop house full of Carbine and Omega posters
Consume fruit, mushrooms, or glitched foraged items in a single match (8)
Harvest materials at the Block or Dusty Depot in a single match (300)
On the normal side of things, your rewards consist of 50 Battle Stars, 5,000 XP, and a new harvesting tool called Renegade Rollers. For completing the Prestige mission objectives, you'll receive 5,000 XP, a Teknique spray, and an Epic style called Tilted Teknique (Wildstyle).
We can't imagine any of these objectives will get you too tripped up. If you're someone who has trouble getting eliminations, you might have an easier time playing respawn-enabled game like Team Rumble so you can keep coming back to life for more opportunities. Otherwise, the objectives are a lot of searching, collecting, and visiting certain locations. Piece of cake.
Be sure to check back next Thursday for the newest Fortnite Season 10 Mission Objectives.