Fortnite Season 10 Boogie Down Mission Objectives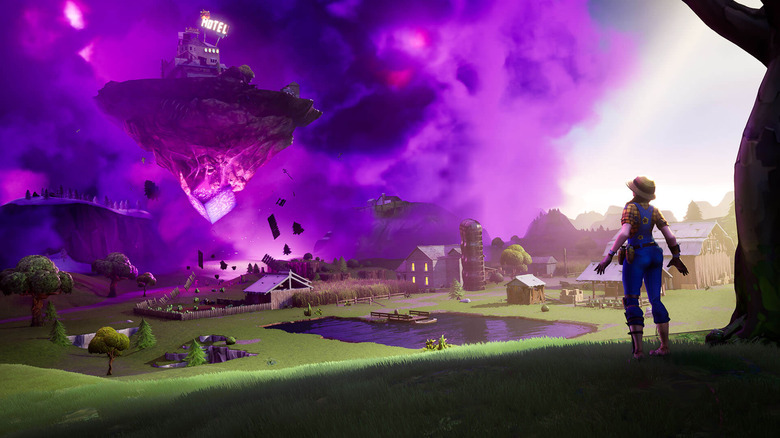 Fortnite has officially refreshed for the week, which means an all-new Battle Pass Mission has arrived with new objectives to complete and rewards to earn. This week's Mission is called Boogie Down, and as the name implies, you'll be doing quite a bit of dancing this week in order to get your loot.
We've detailed the Boogie Down Mission Objectives below.
Normal Objectives:
Hit an opponent with a Boogie Bomb (2)
Dance in front of a bat statue, a way-above-ground pool and a seat for giants
Get an elimination with a shotgun, assault rifle, and an SMG
Travel 100m while dancing
Visit an oversized piano
Destroy No Dancing signs (3)
Dance in a B.R.U.T.E. in different matches (3)
Prestige Objectives:
Damage an opponent affected by a Boogie Bomb (2)
Dance in front of a bat statue, a way-above-ground pool and a seat for giants in a single match
Get an elimination with a pistol, a sniper rifle, and an explosive weapon
Dance with others to raise the disco ball at an icy airplane hangar
Play the sheet music at an oversized piano
Dance after opening a supply drop in different matches (3)
Dance behind the DJ booth at a dance club with the DJ YOND3R outfit
As usual, players have the opportunity to secure some impressive rewards should they complete most of or all of these objectives. In total, there are 50 Battle Stars up for grabs, as well as 10,000 XP, a Sc3pt3r Pickaxe, and a new Yond3r skin style called Formal White.
Now, we're aware of at least one location that might throw you for a loop here: the oversized piano. Surely if something like that existed in the game, you would've noticed it, right? Not necessarily. The oversized piano is located east of Lonely Lodge near the beach, and if this is a place you don't land in often, it's entirely possible you could've missed it.
And as far as playing the sheet music for the Prestige mission objective is concerned, that's pretty straightforward. The sheet music displays the notes as letters, and the piano keys are also labeled with letters. Play C-E-G-E-C and you're all done.
There's scheduled to be another new Mission inside Fortnite next week, so be sure to check back then for more details.