Fall In Love With Colonel Sanders In KFC's Upcoming Dating Sim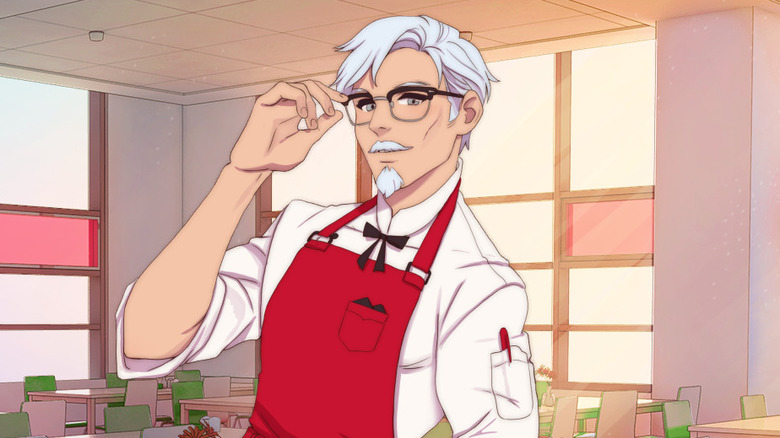 A listing for I Love You, Colonel Sanders! A Finger Lickin' Good Dating Simulator has appeared on the Steam store, heralding the arrival of a game certain to become one of the most highly anticipated releases of 2019.
Advertisement
Psyop, the title's developer, specializes in visual storytelling that blurs the line between marketing and entertainment. Published by KFC, I Love You, Colonel Sanders! embodies that design concept, seamlessly blending video games with advertising to form what the listing describes as "the most delicious dating simulator ever created."
In I Love You, Colonel Sanders! you'll take on the role of a promising student at a culinary school who has developed romantic feelings for their classmate, Colonel Sanders. In addition to courting the colonel, you'll have nine other characters to interact with as you uncover secret recipes and engage in cooking battles on the way to earning your degree. The title promises multiple hours of gameplay, including a super secret ending and a mechanic called "battle battles." (What?)
Advertisement
The screenshots and accompanying trailer provide a sneak peek at some of the personalities you'll encounter. There's Aeshleigh, your arch-nemesis, a girl who can "get anything she wants and she knows it." Aeshleigh is joined by the arrogant Van Van, another of your rivals. You'll also have your green-haired, high-spirited best friend to contend with. And don't forget Professor Dog, a distinguished-looking corgi sporting spectacles, a chef's hat, and a spatula. There's no word yet on whether you can date Professor Dog but Psyop warns that the choices you make "have real consequences with real animated characters' feelings at stake."
The Steam page lists I Love You, Colonel Sanders! as "Coming Soon." It's unclear whether KFC plans to make the sim a PC exclusive or release it for consoles at a later date. Either way, this is one game you won't want to miss.