Apex Legends Physical Editions: Release Date And Legendary Skins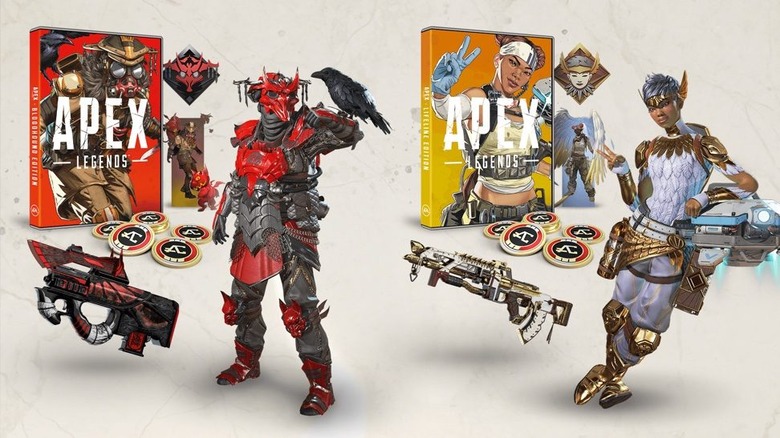 Electronic Arts has shared the details about two Apex Legends physical editions slated for release next month. The Apex Legends Lifeline Edition and Bloodhound Edition both come with an exclusive Legendary skin, additional themed cosmetic items, and Apex Coins.
The angel-themed Lifeline Edition includes the Legendary Guardian Angel Lifeline skin, Legendary Chooser of the Slain Flatline skin, an exclusive Winged Guardian banner, an exclusive Angel Struck badge, and 1,000 Apex Coins.
Inside the the devil-themed Bloodhound Edition, you'll find the Legendary The Intimidator Bloodhound skin, Legendary Wrath Bringer Prowler skin, an exclusive Feeling Impish banner, an exclusive Tormentor badge, and 1,000 Apex Coins.
1,000 Apex Coins, which normally costs $10, is enough to buy 10 Apex Packs or a battle pass. The accompanying cosmetics give the physical editions an appropriate value; though you'll have to purchase both to obtain all the exclusive skins.
The Lifeline Edition and Bloodhound Edition release on October 18 for Xbox One, PlayStation 4, and PC, giving you plenty of time to decide whether you're more angel or devil. You can purchase them for $19.99 each from your preferred retailer. It's important to note that while Xbox One and PlayStation 4 users will receive a physical copy of the game, the PC version comes with a redeemable Origin code instead.
News of the Apex Legends retail versions follows player reports regarding the appearance of mysterious loading bars on various in-game screens. The accompanying text reads ""BNR-OS KEY DECRYPT," with the bar hovering at 28% at the time of this writing. Many theorize that these loading bars tease the arrival of Crypto, the next Apex Legend. With Apex Legends Season 3 on the horizon, its possible the loading screens may trigger a special event once they reach 100%.
Players have found several leaks and clues regarding Crypto's identity and abilities ranging from an Aerial Drone companion that acts as a surveillance camera to Crypto's laptop. Respawn has yet to share an official release date for the Legend.