Fortnite Season 10 Week 7 Battle Star Location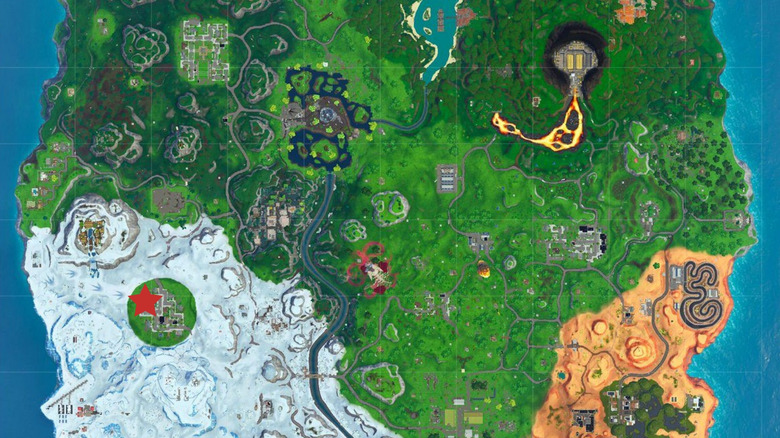 Week 7 of Fortnite's tenth season is upon us, introducing a new collection of limited time challenges and a hidden Battle Star to hunt down. Every Battle Star you collect confers a free Battle Pass tier; a great opportunity for you to progress through the ranks faster.
To unlock the Week 7 loading screen, you'll first need to complete three missions from the Summer Slurp set before September 19:
Explosive weapon Eliminations (1)
Use different trap slot items (2)
Search a Chest, Ammo Box, and Vending Machine in the same match (3)
Deal damage with Shotguns to opponents (500)
Land at Frosty Flights or Haunted Hills in different matches (3)
Deal damage with Pistols to opponents (200)
Search Chests at Greasy Grove or Sunny Steps (7)
The Summer Slurp loading screen depicts a rather disconcerting pool party with the Moisty Merman skin and Swamp Stalker skin on display. Rather than coordinates, a taco logo on a back wall to the left of center serves as this week's clue, pointing you towards the recently unearthed Greasy Grove. Head to the taco restaurant to the southeast of the viking village in the snowy part of the map. You'll find the Battle Star in the gap between the booths in the front, right portion of the building.
Thanks to a new mechanic that forces all players to use the Taco Time emote at set intervals in this area, this week's Battle Star should be relatively safe to pick up. The dance party happens regularly and players can't use weapons while the emote is active.
Bear in mind that you will not be able to collect the Battle Star until the third Summer Slurp mission goes live on Saturday. In addition to the your hidden prize, here are the rewards you'll receive for completing the full challenge set:
10 Battle Stars (1 Challenge)
500 XP (2 Challenges)
Summer Slurp Loading Screen (3 Challenges)
10 Battle Stars (4 Challenges)
1,000 XP (5 Challenges)
10 Battle Stars (6 Challenges)
2,000 XP (7 Challenges)