Deep Rock Galactic Is Free To Play On Steam This Weekend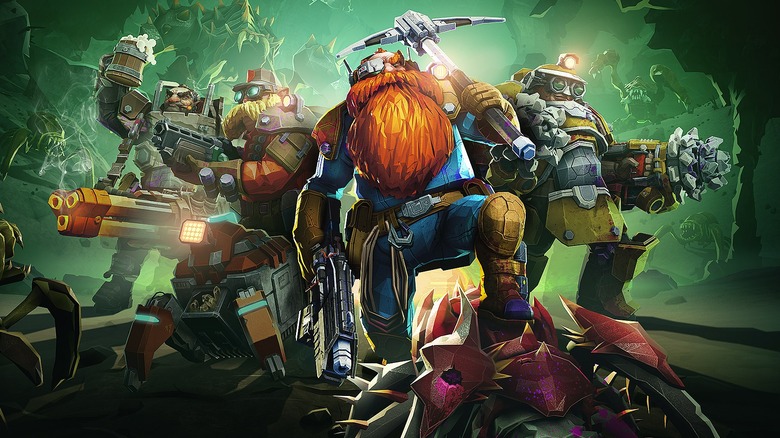 If dwarves in space sounds like an intriguing concept, make sure to check out Deep Rock Galactic during its free weekend on Steam.
An FPS featuring 1-4 player co-op, Deep Rock Galactic lets you tear your way through 100% destructible environments, procedurally-generated caves, and endless hordes of alien monsters. There's four classes for you and your friends to try out: Gunner, Scout, Driller, and Engineer. You'll need to work together to collect your riches and make it back out alive. You never know what dangers are looking around the next corner.
Deep Rock Galactic offers a robust lineup of weapons and gadgets to use in your quest, including flamethrowers, gatling guns, portable platform launchers and more. Sill in Early Access, developer Ghost Ship Games continues to support the space adventure with monthly updates introducing new features and equipment. The next patch will launch Deep Dives, periodic, high-risk Endgame missions that award Batteries. You can then use these Batteries to access Machine Events during normal missions, earning credit, XP, and Blueprints. Blueprints unlock Weapon Overclocks, Skins, and Special Vanity Items.
VG247 called Deep Rock Galactic "a fresh take on co-op shooters" in their March 2018 review, praising its player-directed pacing, fun classes, and sense of danger. "It makes a typically safe and boring part of co-op games really exciting. As you literally run for your life you will be forced to re-examine the choices you made along the way once again," wrote reviewer Sherif Saed. "It adds a bit of context to what would otherwise be simple retrieval missions."
Deep Rock Galactic's free Steam weekend runs until September 16 at 10 a.m. PST/1 p.m. EST. If you'd like to continue playing the game after the trial period ends, you have until September 18 to grab it for 35% off. Anyone who takes part in the free weekend can also collect a free, limited edition recruitment helmet from the in-game Accessory Shop.