Call Of Duty: Black Ops 4 Operation Dark Divide Hits PS4 Next Week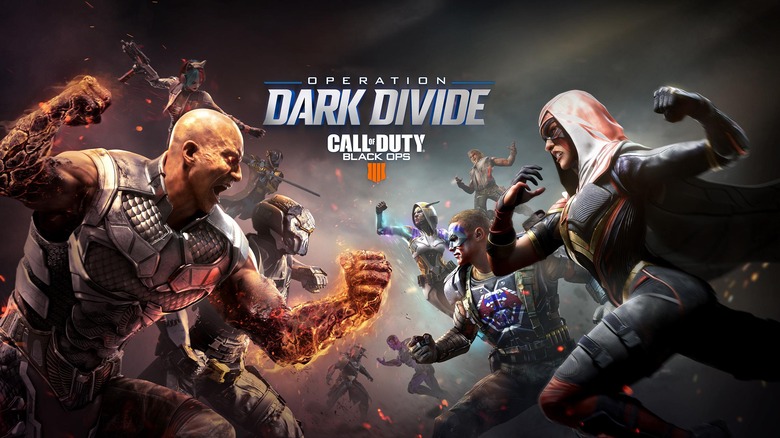 Though the release of Modern Warfare next month has captured the attention of most Call of Duty fans, Black Ops 4 soldiers on, ushering in a new season.
Operation Dark Divide will introduce new content and gear with a superheroes vs. villains theme. The update will also unveil the final two Black Ops Pass multiplayer maps and the finale of the Black Ops 4 Zombies Aether story, Tag der Toten. Treyarch also teased "a message from some very special guests" as part of next week's studio broadcast.
Information about Operation Dark Divide remains scare. In the meantime, you can explore the fresh content added to Black Ops 4 in today's update. The Jungle Flooded map, currently a PlayStation 4 exclusive, puts a new twist on a fan-favorite zone with light weather elements, traversable water, and an underwater capture point in Domination.
The patch also altered the Havelina AA50 sniper rifle, removing aim assist and correcting the damage values for the High Caliber II attachment. Based on player feedback, Treyarch has removed Arsenal Sandstorm from the map rotation in core and hardcore mode playlists.
The other changes mostly relate to the final days of Operation Apocalypse Z which introduced zombie hordes and endless night environments. With the zombies retreating, daylight has finally returned to the main map and Alcatraz across all platforms. Improvements for the Zombies mode have also rolled out, including increased ammo for the M16 and Hellhound spawning logic and visual FX fixes. Treyarch also fixed a global issue that could prevent Weapon Charms and Death Effects from staying equipped.
Call of Duty: Blacks Ops 4 Operation Dark Divide comes to PlayStation 4 on Monday, September 23. Treyarch has not revealed when PC and Xbox One players can expect to receive the update; however, they've promised to share more information during the upcoming studio broadcast.