Gears 5: How To Unlock Skins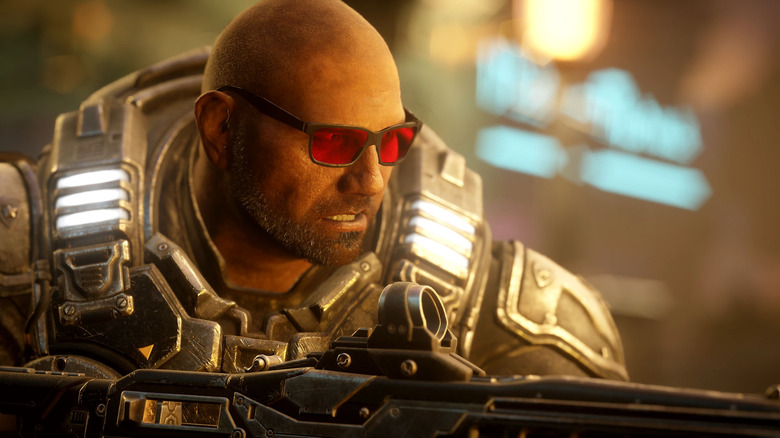 Character and weapon skins are a great way to show your loyalty to the game, your latest accomplishments, or your individual style, and only affect gameplay in the most tactically acute of manners (like when your neon green Jack-In-The-Box Gnasher makes you a bold target from all the way across the map). Each weapon in Gears 5 has a couple of cosmetic skins available at launch that can only be unlocked by spending Scrap, Gears 5's in-game currency earned from duplicate Supply Drops. Similarly, the Gears 5 in-game store offers weekly exclusive weapon and character skins that can only be purchased with the premium in-game currency, Iron.
Several weapon skins can (and will) be unlocked during the course of multiplayer Operations gameplay. Packed with new modes, maps, characters, and customization items, Operations and their associated Tour of Duty multiplayer events cycle out every three months and promise to "constantly evolve" the Gears 5 experience. According to The Coalition, "every new Tour [of Duty] rank unlocks exclusive items like character and weapon skins, executions, blood sprays, banners, expressions, marks, and more."
A variety of weapon and character skins (along with new playable characters) were also offered as pre-order incentives for retail outlets like GameStop, Amazon, et al. Additionally, players who pre-ordered Gears 5 and week one Game Pass players gained access to the Terminator: Dark Fate Character Pack, which includes Sarah Connor and the T-800 Endoskeleton along with special customizations specific to both. Furthermore, players can unlock a free Dave Bautista skin for Marcus Fenix simply by playing Gears 5 between Sept. 15 and Oct. 28, 2019. And, if previous Gears releases are any indication, additional skins are right around the corner.