How Long Does It Take To Beat The Legend Of Zelda: Link's Awakening?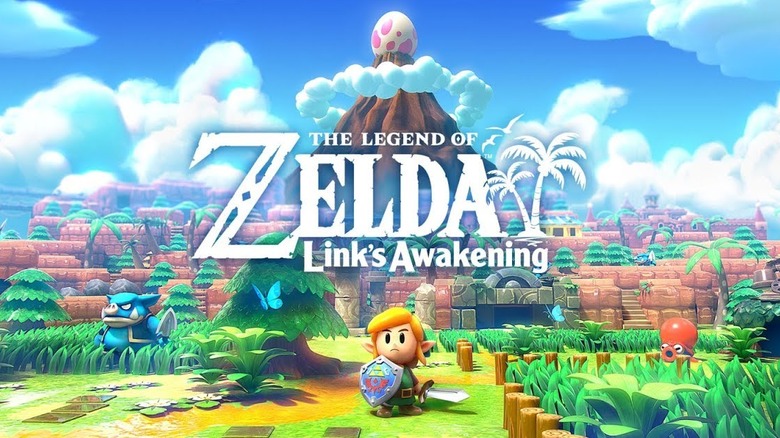 The reviews are starting to come in for Nintendo's latest: a remake of the Game Boy classic The Legend of Zelda: Link's Awakening. The 2019 version of the game looks simply stunning, thanks to the more modern hardware found in the Nintendo Switch. Now, with the game's release just a day away, fans are asking: how long does it take to beat The Legend of Zelda: Link's Awakening?
That's going to depend on who you are and what kind of experience you have with the original Link's Awakening on the Game Boy.
Kotaku's Jason Schreier, for example, was already quite familiar with the Link's Awakening of old when he reviewed the 2019 edition for the Nintendo Switch. Because the layout of the world is largely the same, the puzzles don't deviate too far from those in the original, and Schreier remembered how to defeat the game's various bosses, he was able to get through this year's Link's Awakening at a quicker pace. He estimated his total playtime to be around eight hours.
VG247 seemed to agree, in terms of Link's Awakening (2019) being a faster play for those who've played the Game Boy title in the past. In that site's review, writer Alex Donaldson pegged an approximate campaign run for the experienced at six hours, while estimating it would take newcomers somewhere between 15 and 20 hours to complete the game.
And Twinfinite's Greyson Morales wound up ballparking a similar figure, including both those who've played Link's Awakening before as well as those who haven't. Morales' put a completion in the range of 10 to 15 hours.
Taking all of those numbers into account, it sounds like Link's Awakening veterans from the 90s might be able to finish the remake in approximately eight hours. For those of you who are brand new to the experience — as in, those who will be picking up a Link's Awakening of any sort for the first time — you'll likely be spending somewhere in between 15 and 20 hours exploring Koholint Island.
And wouldn't you know it: those estimates seem to line up with the times submitted by players for Link's Awakening on Game Boy. The website How Long to Beat averaged out times from 22 different players and found that the original Link's Awakening campaign took most around 15 hours to complete. The result was about the same for the updated Game Boy Color version of the title, Link's Awakening DX, which estimated a story completion time of 14.5 hours based on the times of nearly 100 players.
We knew the Link's Awakening remake was going to try and keep the feeling of the original Game Boy classic. We did not anticipate, however, that despite its graphical overhaul and numerous quality-of-life improvements, players would still be taking the same amount of time to beat the new version as they did the old version. That's an amazing thing to see in a remake for a game that's over 26 years old at this point, and Nintendo deserves a lot of credit for bringing the game forward without totally reinventing it. 
There is one topic that needs to be addressed with regard to Link's Awakening's campaign, however, and that's how the game's length squares with its price.
Some Zelda fans feel that the Link's Awakening remake is overpriced, and at $59.99, that's certainly a valid argument to make. Nintendo is charging the same amount of money for Link's Awakening as it is for Breath of the Wild, and if you're even slightly familiar with either title, you can see why some believe the two don't belong on the same plane. Breath of the Wild features a sprawling open world with gorgeous visuals, dozens upon dozens of side quests and shrines to discover, and a story that'll take most players around 50 hours to complete. Link's Awakening, as beloved as it is, is a remake of a much shorter Game Boy title that doesn't offer many twists for those who've played the original.
If you're new to the Legend of Zelda franchise and the amount of playtime you get for your money is important, you might want to start with Breath of the Wild first. If you're a Zelda die-hard, however, and you've already played through Link's many adventures, you'll have to decide if the nostalgia of playing through 8 hours of a much prettier Link's Awakening is worth your $60.
The Legend of Zelda: Link's Awakening comes to Nintendo Switch on Friday, Sept. 20. We'll undoubtedly have more news about the game on launch day, so stay tuned.