Metro 2033 Redux And Everything Free In Epic Games Store Next Week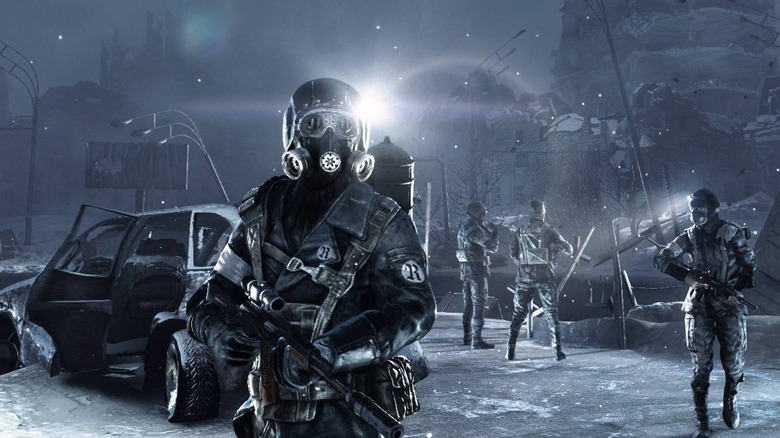 The Epic Games Store has announced the next round of titles slated to join their Free Games Collection. You can add Metro 2033 Redux and Everything to your library from September 26 through October 3.
Metro 2033 Redux transports you to a post-apocalyptic version of Russia. With the earth's surface transformed into a poisonous wasteland, the survivors took shelter in the Moscow underground, creating new settlements in the remnants of the Metro stations. As Artyom, a young man who grew up in the darkened tunnels, you'll embark on a journey that determines the fate of mankind.
Metro 2033, the first title in the Metro series, released to positive reviews back in 2010. Game Informer awarded the game a 9/10, naming it an excellent debut with the trappings of a cult hit. "You're constantly encountering new factions, discovering interesting new locations, or being tasked to do something you haven't done before," wrote reviewer Phil Kollar. "With this stellar first effort, 4A Games has handily risen above its team's past efforts." Redux expands on this strong foundation with a full graphical remaster.
Everything is an award-winning reality simulation game developed by artist David OReilly. In Everything, you actually become the universe. All objects, from animals to galaxies and planets, act as playable characters. Through procedural, AI-driven simulation, you'll explore vast tracts of inner and outer space. Part game, part nature documentary, Everything is narrated by renowned philosopher Alan Watts and features a sweeping score from composer Ben Lukas Boysen.
Polygon's Colin Campbell described Everything as "one of the most extraordinary games I've ever played," giving the game a 9/10. "This is an exceptional piece of fantasy fiction, a metamorphosis machine, a toy, a game like no other. It's a work of deep imagination, humor and thoughtfulness," concluded Campbell. "Everything held me captive for many hours, and will continue to do so."
Metro 2033 Redux and Everything will replace Batman: Arkham Collection and the Lego Batman Trilogy which you can grab for free until September 26.