Gears 5: How To Earn Scrap And Iron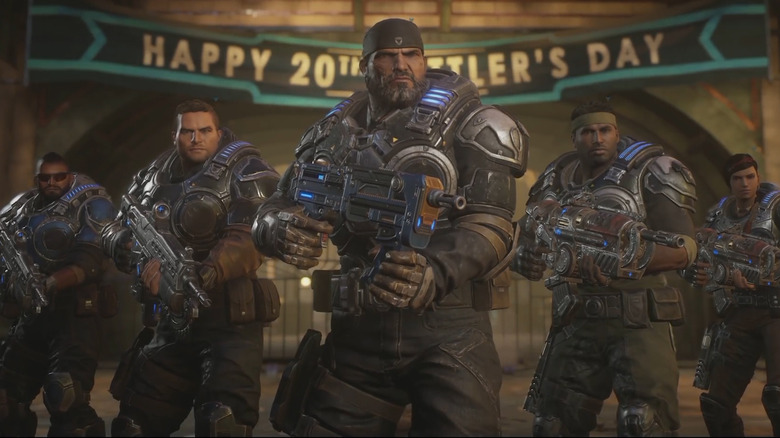 Gears 5 utilizes two forms of in-game currency: Scrap and Iron. Accumulation of these assets is a draconian occupation, to say the least. Scrap is earned one way and one way only: from Supply Drop duplicates. Once you've claimed enough Supply Drops to start earning duplicate unlocks, the extraneous customizations are converted to a moderate amount of Scrap, which can be collected and used to purchase weapon skins, banners, character expressions, and more. Iron, on the other hand, is the premium in-game currency of Gears 5, and it's a necessary evil if you want to purchase boosts to your XP progression or certain customization items. In fact, some weapon and character skins are only available with Iron, so let's cut to the chase with the hard facts on how to earn Iron in Gears 5 the easiest (and quite frankly only) ways possible.
The most straightforward way to earn Iron in Gears 5 is by purchasing it with real money from the in-game store. The smallest option is an increment of 500 Iron for $4.99, with additional options of 1,000 Iron for $9.99, 2,000 + 250 Bonus Iron for $19.99, 5,000 + 1,000 Bonus Iron for $49.99, and 10,000 + 2,500 Bonus Iron for the hefty price of $99.99. If you're tenacious enough, you can also earn Iron throughout the course of Operations gameplay in Versus, Horde, and Escape modes — but this is an extraordinarily slow endeavor. The chances of you earning enough Iron to purchase a few weekly exclusives from the Gears 5 in-game store in the course of an actual week are slim. In fact, you'll need to advance 24 rankings in a Tour of Duty (all the way to the Officer 3 level) before you finally earn a paltry 100 Iron as a reward.