Gears 5: How To Play As Halo Characters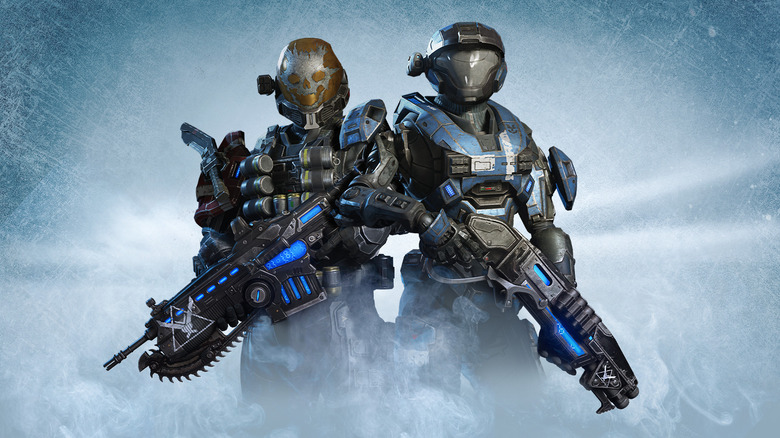 A little loyalty in the console wars goes a long way. The Gears universe and the wide worlds of the Halo franchise collide in Gears 5 with the advent of two playable characters from Halo: Reach — the Noble Team Spartans Emile-A239 and Kat-B320. The Gears 5 Halo: Reach Character Pack DLC that contains Emile and Kat — along with a variety of weapon skins, banners, blood sprays, a Noble Team character skin for Jack, and more — comes standard issue with all purchases of Gears 5 Ultimate Edition and is also available to all Xbox Game Pass Ultimate subscribers. Unlocking them for play is as simple as getting your hands on a Game Pass or the Ultimate Edition, but what how you decide to use them in battle is entirely up to you.
Advertisement
The two Noble Team heroes are playable in Campaign, Versus, Horde, and Escape modes, and each sports their own Ultimate ability and skill track. Offense hero Emile-A239's Ultimate ability is the Halo-inspired Drop Shield, which activates a blue shield that protects players from incoming projectiles. It's worth noting, however, that while the Drop Shield is active, Emile can't shoot a target outside it. Meanwhile, Emile's passive ability earns him a new pilfer pickup drop every sixth headshot.
Kat-B320, on the other hand, is an Engineer-class character whose passive ability allows her to build new fortifications at a small discount and carry fortifications faster. Her Ultimate ability is another Halo: Reach Armor Ability favorite: a Hologram similar to Active Camouflage which deploys a holographic decoy that draws enemy fire by moving directly forward. Will the rest of Noble Team make a cameo in Gears 5's future? Only time, and Xbox Game Studios, will tell.
Advertisement