Resident Evil 2 Invades Monster Hunter: World's Iceborne Expansion In November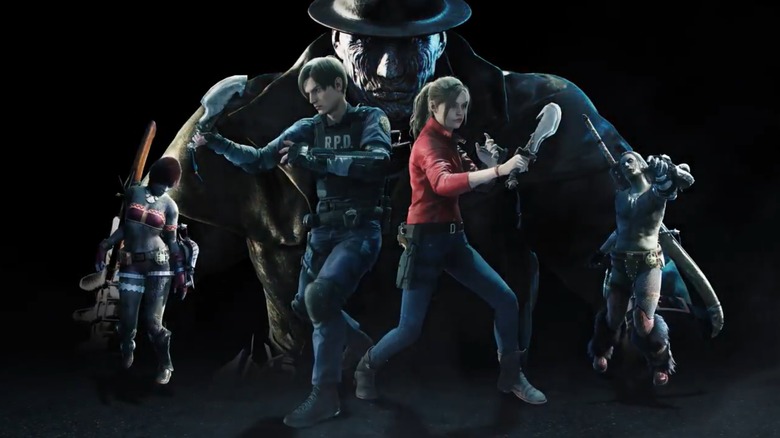 Capcom is so amazingly weird. A few months after bringing The Witcher 3's Geralt in to slay monters in Monster Hunter: World, the company is now looking in-house for help. The result? A cross-over event between Resident Evil 2 and Monster Hunter: World — Iceborne that is set to drop this November.
Advertisement
Details are slim at this early stage, but we do have this glorious trailer that Monster Hunter posted on Twitter to tide us over in the meantime. And it raises plenty of questions.
Leon and Claire join the hunt in #Iceborne. Watch out though: they're not the only ones wandering these parts... pic.twitter.com/32sAmYf5yq

— Monster Hunter (@monsterhunter) October 4, 2019
To start, will Monster Hunter: World really be decking out an area to look exactly like the Raccoon City Police Department? If so, that is awesome. What's the deal with all the involuntary zombie spasms while battling in game? Is that going to be some kind of mechanic? Have Leon and Claire always been this skilled with swords and pikes? How is it they can mount and murder a giant winged beast but struggle to put down the world's slowest zombie?
Advertisement
And what is going on with Mr. X here? It certainly looks like Capcom is having some fun with characters from Resident Evil 2, tossing the canon of that universe out the window so that Leon, Claire and Mr. X can enjoy some snacks together before heading out on a hunt. But will he also be a playable character? It would be nice to finally make others feel the dread we felt playing Resident Evil 2, even if those others are giant menacing monsters themselves.
Oh and, in case you missed it: there's a short nod near the end to the tofu that's somehow become associated with Resident Evil. We get it. At the same time, we don't.
We're certain more information about the Resident Evil 2 and Monster Hunter World: Iceborne crossover will be made available in the days and weeks ahead. For now, you can look forward to the Resident Evil invasion of Monster Hunter's latest expansion sometime in November 2019.