Assassin's Creed: Odyssey Anniversary Event Lets You Ride A Pegacorn Proving Dreams Do Come True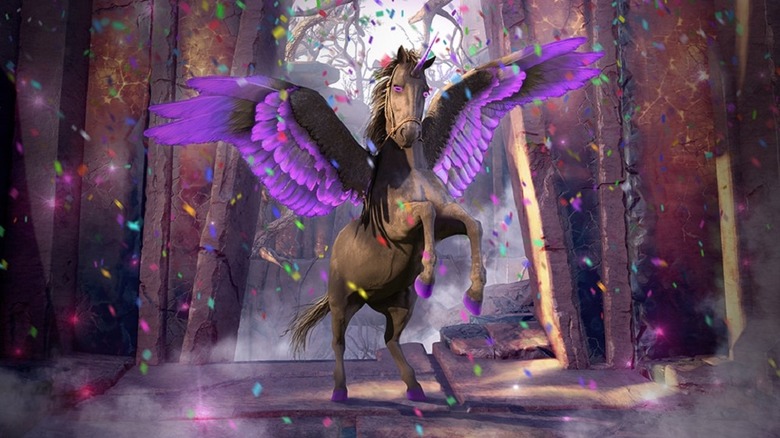 This month, Ubisoft is celebrating the one-year anniversary of Assassin's Creed: Odyssey, their deadly romp through Greek mythology. To mark the occasion, the developer has put together a special update that, in addition to the typical bug fixes and improvements, includes a new mount, new items, and the return of rare targets.
New mount Melaina takes center stage. Named for one of Apollo's nymph lovers, Melaina is an equine with wings and a horn, combining traits from two fantastical creatures: the pegasus and the unicorn. The magnificent pegacorn will be available later in the month for Odyssey players free of charge, allowing Kassandra and Alexios to soar through the sky in style.
Each day during the month of October, Ubisoft will resurrect a previous Epic Encounter, exclusive ship and mercenary targets that were only available during a specific window. This week's Epic Encounters include: Edonos the Charging Bull, Shapur the Unforgiving, and Perdix the Wayfarer. You'll also find a substantial increase in Orichalcum earnings with the defeat of Epic ships and mercenaries paying out 15 Orichalcum each. This bumps your weekly earning potential up from 40 to 105 Orichalcum. Enjoy the pay increase while you can as Epic Encounters will return to their normal format in November.
Ubisoft also shared some impressive community achievements from the past year. Players have reportedly spent over 645 million hours playing Assassin's Creed: Odyssey and have killed over 20 billion enemies. 1.25 million hours were spent exploring Ancient Greece as the bird companion, Ikarus. During dialogue, players trended towards friendly and truthful options and chose to flirt 71.5% of time proving that Odyssey has some very thirsty players. The developer also reported that the community had taken over 48 million photos and dismantled 107 billion weapons.
Want to get in on the fun? Assassin's Creed: Odyssey is available now for PlayStation 4, PC, and Xbox One.