Fortnite Season 10 Out Of Time Mission Challenges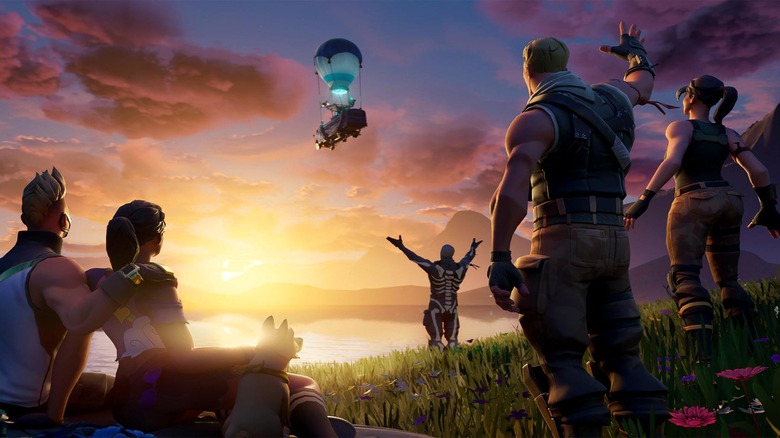 The last mission of Fortnite Season 10 is officially live, and it's called Out of Time. The name seems rather appropriate, as there's speculation this mission could close out both Season 10 and our time on the one Fortnite map we've come to know over the past few years. But hey: we're not here to wax nostalgic. We're here to learn about the mission challenges.
The Out of Time mission isn't structured quite like the battle pass missions we've been completing over the past few months. Instead, the stakes have been raised, and the loot you can secure is more grand.
Complete any six challenges to earn the "Season X" loading screen
Reach Battle Pass Tier 47 to earn the Yound3r Epic Outfit
Reach Battle Pass Tier 70 to earn the Sparkle Supreme Epic Outfit
Reach Battle Pass Tier 87 to earn the Eternal Voyager Epic Outfit
Collect the Visitor recording on the Floating Island and in Retail Row for 2,500 XP
Deal damage to opponents (2,500) for 2,500 XP
How here's where things get funky. At this moment, there are four more mission challenges that are time-gated. Two will release tomorrow, and two will release on Thursday. Thanks to leaks, however, we've managed to learn what those mission challenges might end up being, so you can at least take a look at them and prepare yourself.
Collect the recording in Moisty Palms and Greasy Grove
Collect the recording in Starry Suburbs and Gotham City
Outlast opponents (250)
Search chests (25)
There are two 5,000 XP prizes and two 10,000 XP prizes for completing those soon-to-be-unlocked challenges, but because only the challenges themselves have been leaked, we're not sure which awards correspond to which challenges at this time. Be sure to keep an eye on the Out of Time mission so you know when they unlock. And definitely use the cheat sheet created by the folks at r/FortniteBR if you need help locating a point of interest on the map.
And that'll probably do it for Fortnite Season 10! Never fear, though; we'll undoubtedly have Season 11 news to look forward to very, very soon.