The Real Reason #BoycottBlizzard Is Trending On Twitter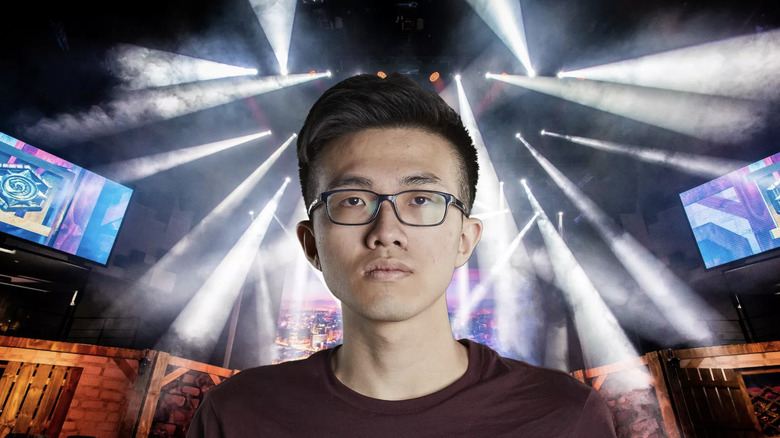 Blizzard Entertainment via Polygon
After winning a match during the 2019 Hearthstone Grandmasters Event, Ng Wai "Blitzchung" Chung expressed his support of the Hong Kong pro-democracy protests during a an official interview. Following the stream, Activision Blizzard removed Chung from the tournament, denying him his winnings and banning him from Hearthstone esports for a period of one year. The company also fired the two casters who conducted the interview.
Sparked by an extradition law, the Hong Kong protests have gained an increasing amount of steam in recent months in an effort to protect the democratic political system of the semi-autonomous city from mainland China's attempts to control it. Chung, who divided his attention between supporting the protests and preparing for the Grandmasters Event, showed his solidarity by donning goggles and a face mask and sharing one of the slogans from the protest: "Liberate Hong Kong, revolution of our time."
"I know what my action on stream means," Chung said in a subsequent statement. "It could cause me lot of trouble, even my personal safety in real life. But I think it's my duty to say something about the issue."
The Hearthstone and general gaming community has exploded in the days following the incident, with many accusing the company of acting as China's censor. #BoycottBlizzard is currently trending on Twitter, and the general vitriol reached even greater heights following the official unveiling of Blizzard's verdict on the Hearthstone blog earlier today. The situation has escalated to the point that the Blizzard subreddit has been temporarily closed, though former players have found other forums to share their displeasure.
"I've played HS since early 2014," wrote one Reddit user. "I've spent around £200 in the game and countless of hours. Today was my last day playing Hearthstone. You all know it by now. What Blizzard has done, or rather what they have become, is just a straight up tragedy. Vote with your wallet people, it's the only language they understand."
Whether the #BoycottBlizzard movement will gain traction remains up in the air. Beyond the statement on the Hearthstone blog asserting that Chung had violated the tournament's rules, Blizzard has done little to address the mounting outrage. Meanwhile, disillusioned customers continue to express their anger and disappointment via social media.
"Cowards," wrote one Twitter user. "Grew up watching my dad play WoW, began playing when I built my first computer. Never buying another Blizzard game again. Shame on you guys," said another.