Fortnite: Chapter 2 Season 1 Battle Pass Trailer Leaked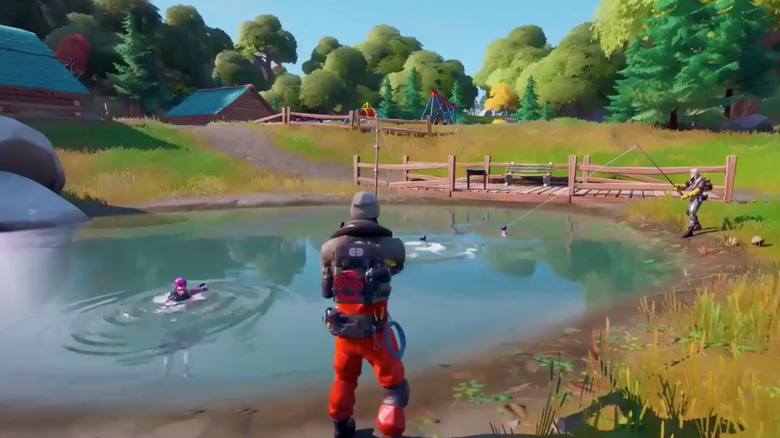 Could it be? Maybe. We've kept our eyes peeled for any inkling of information as to what the future holds for Fortnite. Now SkinTrackerCom, a Twitter account apparently dedicated to cataloging skins in battle royale games, leaked what appeared to be the trailer for Fortnite: Chapter 2's Season 1 Battle Pass before suddenly taking it down this morning.
In that brief glance, here is what we saw.
There appears to be a whole new map to explore, and much of it is covered in water features. Now players will be able to commandeer boats and even swim when they sink. Yes, swimming! The revolution is now. In the action-packed trailer we saw a variety of boats, ponds, streams, beaches, and fishing. Maybe that last part isn't as exciting, but hey, it's a thing now! Another new mechanic is what the trailer called "new ways to level up." This system doles out medals depending on what the player has been doing, whether it's crafting, scavenging, battling, and yes, even fishing. 
Playing with friends will be more interactive than ever: players can carry downed teammates like heroic firefighters, ferrying them away from firefights. There also appears to be co-op emotes like high fiving in store for Chapter 2. More of a loner? Epic Games has you covered with an apparent new stealth mechanic: you can hide in dumpsters. There may be other new ways to hide in Fortnite, too, but for now all we saw was a player springing a sneak attack from a dumpster.
And speaking of springing, pogo sticks also appear to be a new feature coming to Fortnite for whatever reason. We're not sure what their function is yet, but they sure look fun. 
As is usual with a new season, there are tons of new skins showcased in the trailer, including a collection of alien-esque blob men in overalls. Furthermore, finishing the Battle Pass will give the player a whooping 1,500 V-Bucks, which is perfect for collecting all those new skins! Get hype, gang, because a whole new era of Fortnite is on the way.