Rage 2: TerrorMania Expansion Drops November 14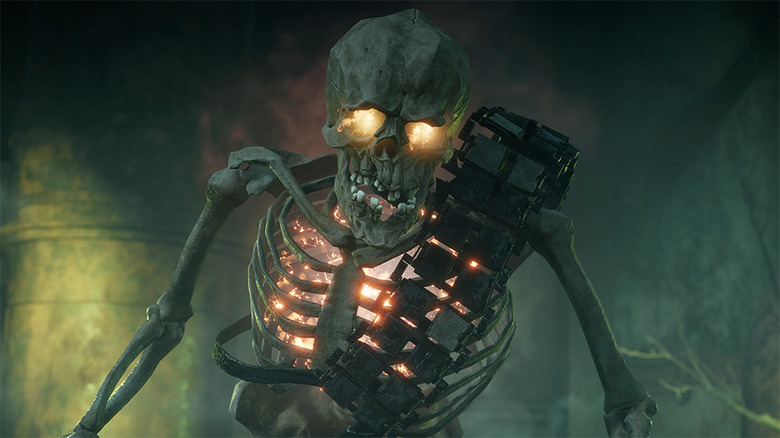 Bethesda has shared details about TerrorMania, the second expansion on its way to Rage 2.
TerrorMania transports you to the Deadlands, a twisted alternate version of the wastelands. Break the curse that has transformed the area or risk being overrun by the skeletal forces of darkness. As you face off against the skeletal hordes, you'll encounter warped versions of familiar locations, including Wellspring (Hellspring) and Overgrown City (Overbone City). New areas, such as the Floating Islands and the Hospital, will also emerge.
You'll also have a new weapon you can use to decimate your enemies: the Sword of Transitus. Described as "the key to unlocking the gates between realities," the Sword of Transitus is ancient relic of unknown power. In addition to stabbing bad guys and slicing holes through reality, you can charge it up to unleash arcs of devastating force.
Rage 2: TerrorMania releases for all platforms on November 14. You can snag it from the in-game store for 500 RAGE Coins ($5). The expansion is also available as part of the the Digital Deluxe Upgrade. For 1750 RAGE Coins ($17.50), you'll unlock the following:
Rage 2: TerrorMania expansion
Cult of the Death God mission
Reaper Assault Rifle weapon skin
Wasteland Celebrity Phoenix vehicle skin
Mutant Monster Truck vehicle skin
Rage 2 has drawn a mixed reception since its release on May 14, 2019. IGN awarded the Rage sequel an 8/10, praising its energetic pacing and steady supply of great weapons, equipment, and upgrades. The game has scored significantly lower on other outlets. Polygon called the game design derivative, questioning why the franchise existed if every aspect was drawn from other games. 
Meanwhile, user reviews on Steam continue to hover at the 6/10 or "Mixed" range, though many of the complaints stem from difficulties with getting the game to launch. The fact that you have to contact Bethesda's customer support to access DLC also doesn't help. Perhaps the latest expansion will breathe some new life (or undeath) into the game.