Red Dead Online Offering Cash, Treasure Map, And New Bounty This Week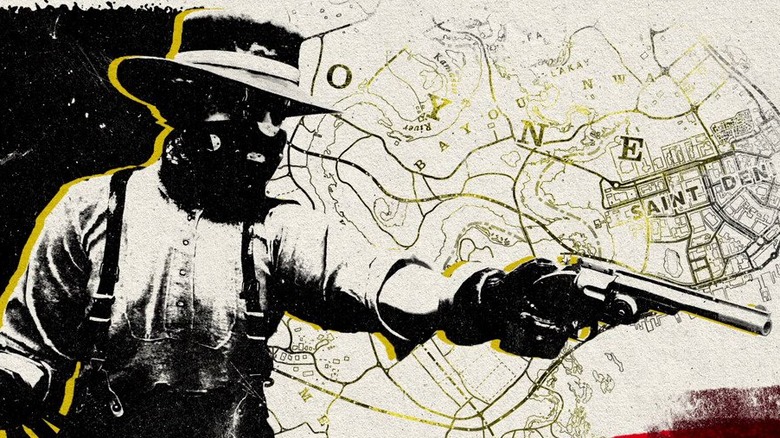 Hunt down a new Legendary Bounty, earn cash, and claim a free treasure map just for playing Red Dead Online this week.
This week's Legendary Bounty is Etta Doyle, a former madame turned gang leader. She and her band of so-called "fallen women" have earned a reputation for robbing trains and stagecoaches, targeting freights owned by Leviticus Cornwall with a particular fervor. Tired of having his goods pilfered, Cornwall has set a trap for Doyle, spreading rumors about high-value items slated to travel through St. Denis via rail. Not wanting to get his hand's dirty, Cornwall is offering a reward to any Licensed Bounty Hunter who can bring Doyle in alive. If you'd like to get in on the action, you can connect your Social Club and Twitch Prime accounts to unlock the Bounty Hunter license for free.
Madam Nazar is currently asking Collectors to track down the Fortune Teller's Collection, which includes the Ace of Cups, Ace of Wands, and Absinthe. You can either deliver it to her directly or mail it at the Post Office to claim your payout.
Rockstar has added new emotes to the Wheeler, Rawson & Co. Catalogue. Gunslingers looking to make new connections can snag the Gentle Wave and Applause emotes. Alternatively, if you're in the market for new ways to express your ire, check out the Thumbs Down and Hush Your Mouth offerings.
Regardless of platform, anyone who plays Red Dead Online between now and November 11 will receive RDO$100 and a free Treasure Map within 24 hours. Wheeler, Rawson & Co. Club Members who reach Club Rank 50 this week will also receive the Gentle Wave emote within 36 hours. Finally, PlayStation Plus members who play Red Dead Online will receive the Page of Pentacles, Knight of Pentacles, Queen of Pentacles, and King of Pentacles Tarot Cards within 24 hours.
Red Dead Redemption 2 is available now for PlayStation 4, Xbox One, and Microsoft Windows.