Did God Of War's Director Just Tweet A Coded Message?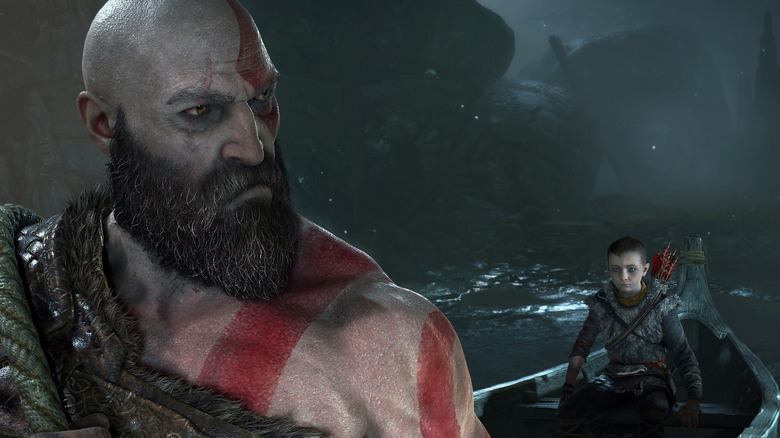 Is the developer behind God of War up to something new? We're not sure, but a rather cryptic tweet from the game's director sure has everyone talking this morning.
At 10:44 a.m. ET, God of War director Cory Barlog tweeted out what appeared to be a simple-looking message: "END TRANSMISSION." Upon closer inspection, though, some noticed the message was also followed by a series of dots. Internet sleuths (like the folks at Gematsu) immediately suspected that Barlog's tweet might contain Morse code, and after translating it, discovered the various dots produced the following string: "SIE," which could stand for "Sony Interactive Entertainment."
—-

...
..
.

— Cory Barlog (@corybarlog) November 7, 2019
Others later found that Barlog had changed his Twitter profile, as well, inserting what appeared to be another Morse code message: this one reading "55HSIE." We already took a swing at what the "SIE" could represent. As for the "55H?" Your guess is as good as ours. We could speculate that the "55" stands for a date — May 5 — and that the date could be when we see whatever Barlog is teasing here (and potentially the PlayStation 5), as well. But that would be irresponsible.
So, what does it all mean? Like any good secret, we'll either have to wait for it to leak out ahead of schedule, or else wait to hear it straight from Sony itself. We will say, though, that the phrase "END TRANSMISSION" doesn't fit the God of War franchise very well; that is, unless we're getting God of Infinite Warfare or something. Rather, it seems more suited for sci-fi. And if you'd just travel back in time with us for just a moment: remember that shelved sci-fi title that Sony Santa Monica was reportedly working on before God of War? We're not saying it sprung back to life, but maybe it never really died in the first place. Who knows.
We'll be watching Cory Barlog's Twitter account very closely now and in the future, so stay tuned.