Beat Saber Now Has A Rocket League Music Pack, As It Should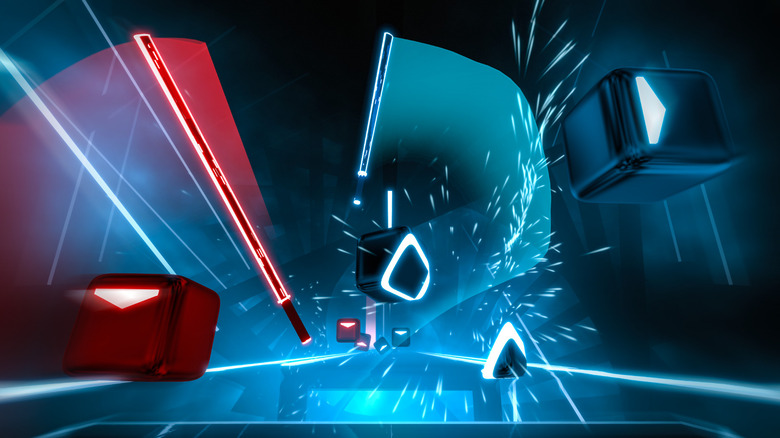 Beat Saber is one of the most entertaining (and physical) VR games you can play. Rocket League is an automobile soccer game with an amazing soundtrack. Now the two have collided, thank goodness, with the release of Beat Saber's Rocket League x Monstercat Music Pack.
The pack, which costs $9 (or $2 per song) includes the following tracks, which you might recognize as some of the tunes added to Rocket League in recent seasons.
Tokyo Machine – "PLAY"
Stephen Walking – "Glide"
Slushii – "LUV U NEED U"
Tokyo Machine – "ROCK IT"
Dion Timmer – "Shiawase"
Slushii & Dion Timmer – "Test Me"
Unfortunately, the pack doesn't include tracks from the original version of the game, which is a darn shame, as we love — and still occasionally listen to — the first songs that showed up when Rocket League launched back in 2015. Alas, we're happy to get the pack anyway, especially since it includes a Rocket League-themed environment. And the best part about that stage? You can actually see the outlines of the goals when the lights flash. The two games do share a visual style (with the neon and all that), so believe it or not, nothing looks out of place at all.
This isn't the first time Beat Saber and Rocket League have crossed paths, by the way. Rocket League actually has a Beat Saber Monstercat Music Pack, so today's release is really just everything coming full circle. Perhaps one day the two games will merge and give us a rhythmic VR soccer game played with rocket-powered cars. It's what the people deserve.
Beat Saber is still kicking, as is Rocket League, so we're sure more news about both titles will come down the pipeline in the future. When that happens, we'll make sure to get in front of you.