Binding Of Isaac Dev's New Game The Legend Of Bum-Bo Is Out (And Is Weird)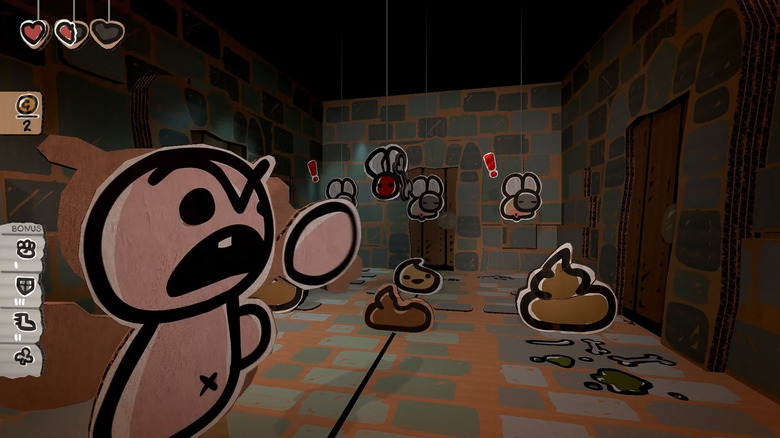 The Legend of Bum-bo launched on Steam today, and it's weird in only a way that legendary indie developer Edmund McMillien can seem to pull off. There's a naked dude named Bum-bo fighting the most unlikely enemies (yes, poop) in a basement. Sound familiar? That's because The Legend of Bum-bo is technically a prequel to The Binding of Isaac, one of McMillen's most successful games. 
That said, Bum-bo is very different from previous McMillen titles. For one thing, the subterranean dungeon is made entirely of papercraft, giving the game a unique, 3D kind of feel. Bum-bo, the unintelligible narrator of the game's trailer, is there to get some coin. He really likes coins. If you don't like Bum-bo, however, there are three other playable characters, each with their own abilities, strengths, and — as the Steam description says — dark personal urges. Whatever that means. 
McMillen describes the game as a "deckbuilding roguelike," a marked change from previous platformers and action RPGs. There's a host of "ugly, yet cute" bosses that are... let's say strange. Like we said, McMillen has a dark imagination. Those who have gotten to play the game before release have loved Bum-bo's oddities, and have thoroughly enjoyed the inventive style and tone of the game. It's a short but sweet ride, with one reviewer finishing the title in eleven hours. And though The Legend of Bum-bo is a single player game, McMillen claims that it's great for streaming and so-called backseat gaming, if that's your thing. 
The release of the game probably comes as a huge relief to McMillen, who always seems to be hard at work developing games. A quick glance at Twitter shows that fans have been pestering him for a release date for ages. Hey, the man is busy. He has also simultaneously been working on yet another Binding of Isaac expansion called Repentance. 
The Legend of Bum-bo is out today on Steam and will release sometime later on iOS and Nintendo Switch.