8BitDo's NES-Themed Mouse Is Legitimately Cool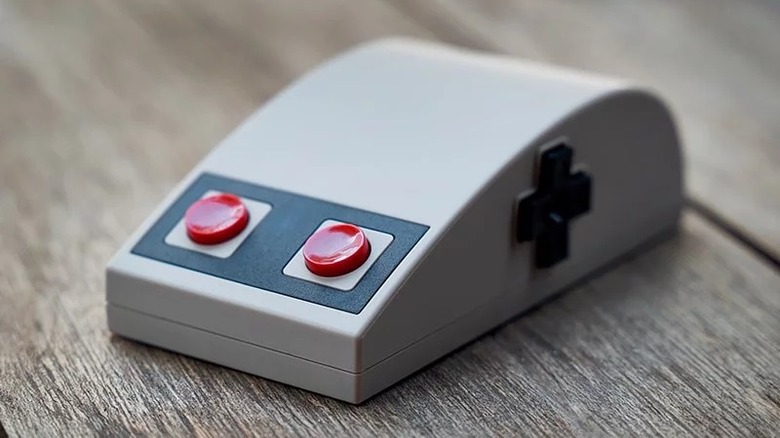 If you're a retro game fanatic, you no doubt have a home or apartment full of old-school gaming knick-knacks. And they probably just sit there. Why not purchase something that is both nostalgic and practical? Something you'll definitely use every day? 8BitDo's NES-themed mouse might fit that description.
Advertisement
The mouse — which is actually called the 8BitDo N30 — might as well have been designed by Nintendo. There are two red buttons on the top (located inside a black square, no less) that look as though they were ripped right off of a Nintendo Entertainment System controller. And there is even a d-pad on the side that helps you to navigate forward, backward, up, and down in your web browser. You'll find all of that on a mouse that has the same off-white color as both the NES controllers and the system itself. So if you've ever wanted a mouse that truly pays homage to the NES, this is the one to get.
And it's fancy, as it turns out. Secretly fancy.
That space in between the two red buttons on the top of the mouse? That is actually a 3D touch panel, which you can use to scroll up and down. The mouse is fully wireless, utilizing the 2.4GHz band to stay connected without the use of wires. And on just one AA battery, it's estimated you'll get approximately 100 to 120 hours of use. So yeah, the N30 looks like it was ripped straight out of the 1980s, but it's not packing 1980s tech. This is a fairly modern mouse; one that might even be good for gaming, should you choose to remap the d-pad to some other commands.
Advertisement
The cost might typically be the sticking point for some, but honestly, this one comes at a fairly reasonable price. It's just $24.99, which puts it right in "stocking stuffer" territory if you have a friend or family member who still clings to the glory days of the NES.
The 8BitDo N30 is available now.