Borderlands 3 Teases Handsome Jack's Return In First Campaign DLC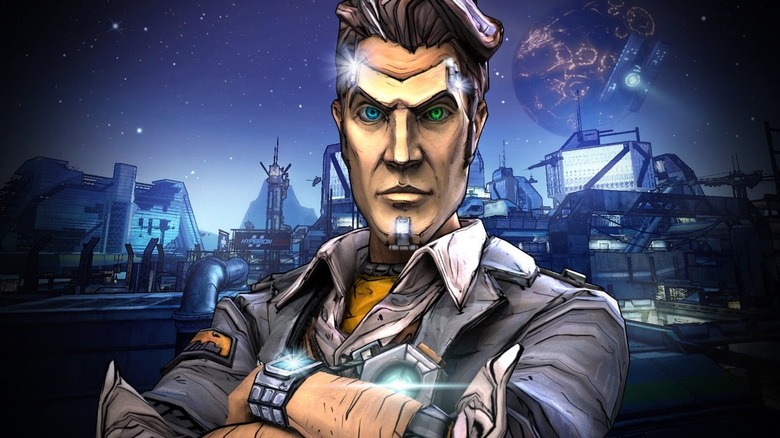 The first campaign DLC for Borderlands 3 is on the way and it includes a couple familiar faces.
Gearbox shared a brief teaser ahead of the DLC's full reveal during The Borderlands Show on November 20. The 25-second clip shows Opportunity, Handsome Jack's "perfect city of the future." Statues and holograms of Jack blanket the location, though the man himself remains conspicuously missing. The shot ends with a voice-over from Mad Moxxi: "Ready to bring down the house, sugar?"
Moxxi's involvement does not come as a surprise as she's present off and on throughout Borderlands 3. Handsome Jack does not appear in the game, largely thanks to his death at the end of Borderlands 2. Gearbox narrative managing producer Randy Varnell insisted the mastermind would stay dead. Even so, Borderlands 3 would feature "a lot of Jack" through references and other reminders of his former existence.
Though Borderlands fans may never get to take on the original Jack again, small details point to the possible return of a digital version of his personality. As GamesRadar+ and some players have noted, Gearbox left the door open for the iconic villain via Rhys's ECHO eye. Rhys accidentally uploaded a copy of Handsome Jack's AI to the implant during Tales from the Borderlands. Players had the option to destroy or keep the eye, however, the developers seem to have made the latter cannon since the implant appears to be back in Rhys's head in Borderlands 3.
Gearbox CEO Randy Pitchford will join the hosts of The Borderlands Show to share more about the "thrilling story, unique environments, and handsome new loot" players have to look forward to in the paid DLC. Tune in November 20 at 8:00 a.m. PST for the full breakdown. DLC 1 will release as part of the Borderlands 3 Season Pass, which you can purchase separately or with the Borderlands 3 Super Deluxe Edition.