Rumor: Call Of Duty: Modern Warfare To Receive 200 Player Battle Royale Mode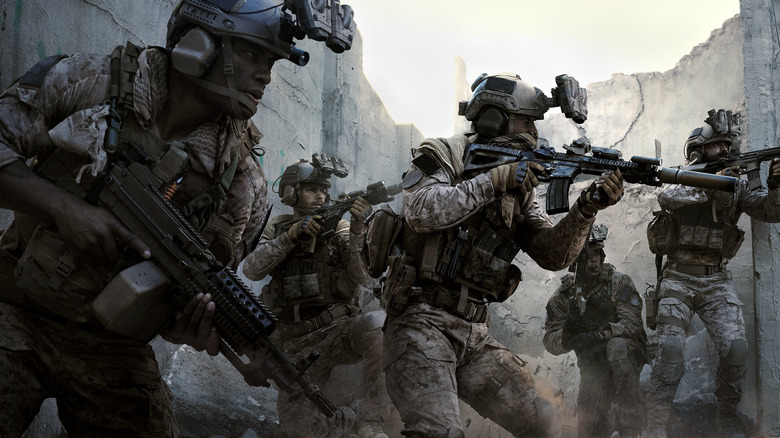 Call of Duty: Modern Warfare has a massive battle royale mode on the way according to a new leak.
The information comes from Reddit user Senescallo, an established data miner within the Call of Duty community. The data mine in question seems to have unearthed several new features slated to arrive with the battle royale mode, including an enormous map, an increased player count, and an early 2020 launch.
According to the leak, the battle royale mode will allow up to 200 players to duke it out across multiple zones in solo, duos, and squads variations. Unlike Blackout's more straight forward missions, the Modern Warfare's battle royale will feature more complex objectives ranging from hunting down specific players to collecting scavenger crates and more. Gulag, a new feature, will also debut, allowing eliminated players to take part in 1v1 battles for the chance to respawn. Players will watch these matches until its their turn to fight and can even place bets on other contenders to earn a new currency called Plunder.
Eliminating enemies and achieving mission objectives awards additional points in the Plunder system; you can then convert this Plunder into experience points at ATMs scattered across the map, though entering a bank will set off an alarm, altering nearby competitors. The player who collects the most Plunder during a match also receives some sort of recognition at the end.
Respawning in general will receive an overhaul. You'll have the option to loot a respawn token, though Modern Warfare limits you to a single respawn per match. You can also revive fallen teammates by bringing their body and a respawn token to an ambulance, entering them into the Gulag where they can fight for a chance to return. As the match progresses, the Gulag will eventually close, preventing any further respawns.
Though Senescallo has a reputation for sharing credible leaks, bear in mind neither Activision or the Call of Duty Team have confirmed any of these details.