Animal Crossing: Pocket Camp Will Soon Get A Paid Subscription Service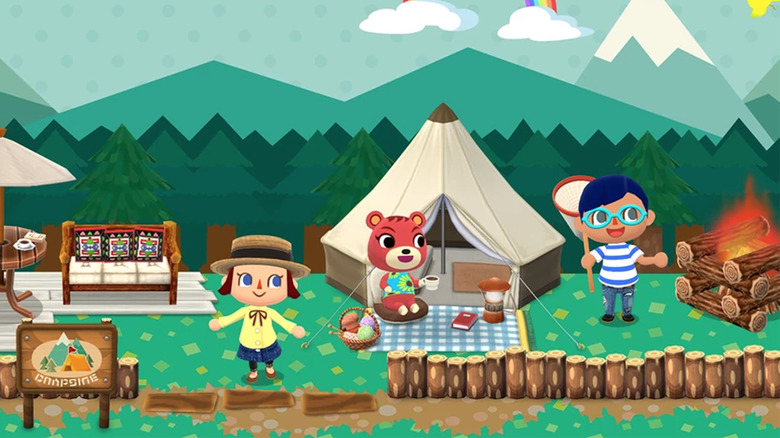 According to an in-game announcement, Animal Crossing: Pocket Camp players will soon have the opportunity to hire a caretaker for their camp, receive Fortune Cookies, and store their furniture in warehouses. For a price, of course. 
To clarify, Nintendo is offering these bonuses as part of two paid subscription services under the umbrella term "Pocket Camp Club." Through one plan, you can appoint a "lucky" animal as a caretaker of your camp. This caretaker will run around and complete some of the chores you don't want or have the time to handle. 
The second subscription includes Fortune Cookies — Animal Crossing's take on loot boxes — and access to "warehouses" where you can store clothing and furniture for later use. Nintendo has yet to announce what kind of price tag will accompany these services or the specifics on what a warehouse or caretaker is. Maybe it's this lack of transparency that has the Animal Crossing: Pocket Camp community in a huff? 
As soon as the notification went out this morning, fans on the Animal Crossing: Pocket Camp subreddit vented their frustrations. Recently, players have noticed the game has become more of a grind than ever, a tactic designed to encourage players to take the easy way out by purchasing "Leaf Tickets," the game's premium currency. "Pay to win" now seems like the best option for unlocking new villagers, new clothing, and new furniture, a disappointing turn of events for an already lackluster game.
This month marks Pocket Camp's two-year anniversary and the increasing shift towards monetization continues to frustrate players. Nintendo will reveal more about these paid services on Nov. 20. Given 100 Leaf Tickets retail for $4, we're wondering how much these subscriptions will set players back. How much do we have to pay the caretaker? What's the rent on those warehouses? We'll keep you in the know.