Rust Introducing Musical Instruments In First Paid DLC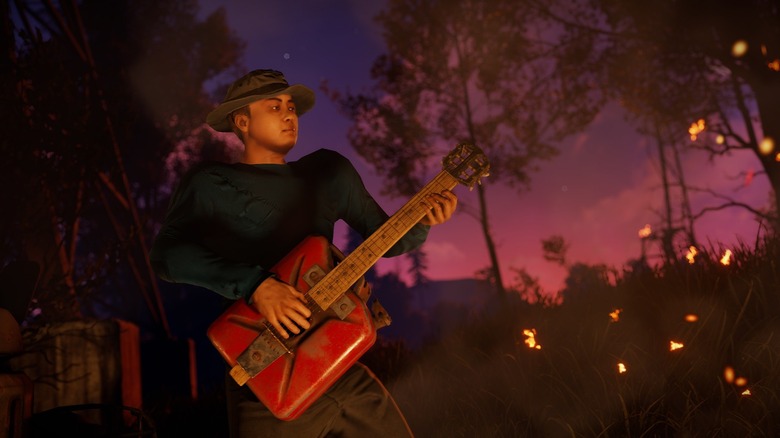 Developer Facepunch Studios has shared details about the first paid DLC for Rust, their multiplayer survival game.
This premium content will arrive in the form a $10 Instrument Pack, introducing 10 playable musical instruments to the game: The Wheelbarrow Piano, The Junkyard Drum Kit, The Shovel Bass, Xylobones, The Plumber's Trumpet, The Sousaphone, The Cowbell, The Canbourine, The Jerry Can Guitar, and The Pan Flute.
The team has created a brand new control system that allows you to play over 20 notes on certain instruments. "You can now bind the standard note range (A, B, C, D, E, F, G) to any key. From there you can bind sharp and octave modifier keys," explained the developers in a blog post. Anyone who has a MIDI device will also have the option to plug it in and play in real-time, creating a more accurate and fast-paced playing style. To take advantage of the MIDI feature, you'll need to enable it in the experimental options section.
Even if you decide not to purchase the add-on you can still get in on the melodic high jinks. You can play musical instruments crafted for you by a DLC owner; alternatively, you can shank someone and claim their instrument as your own. If facing roving hordes of wannabe rock stars sounds like your worst nightmare, Facepunch has your back. Community support manager Errn confirmed via tweet that the instruments would come with a separate volume slider.
Rust has accumulated a host of positive feedback since its debut in early 2018. It's maintained a 9/10 or "Very Positive" rating on Steam, an average drawn from over 250,000 reviews. "Rust is one of the cruelest games on Steam, and that's what makes it so compelling," wrote PC Gamer's Luke Winkie. "I'm utterly entranced with how little faith it has in our ability to get along."
The Instrument Pack arrives on December 5. If you'd like to get your hands on the instruments early, head over to Rust's staging server branch.