There's A Nyan Cat Game Coming To Switch Next Week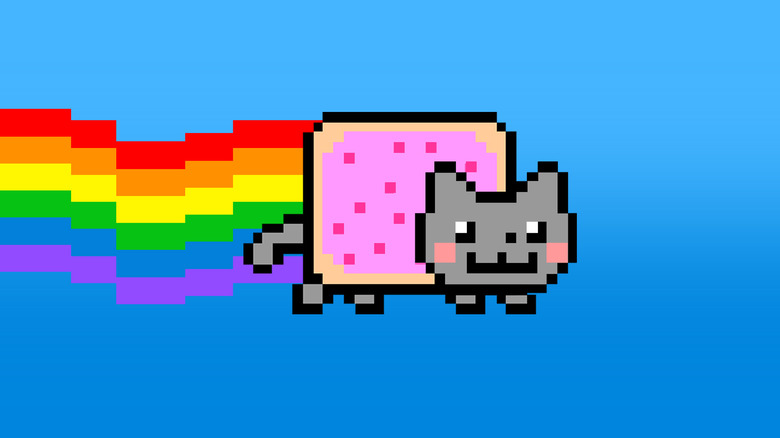 Remember when the meme of the moment was Nyan Cat? The rainbow-expelling poptart cat was everywhere: online, on shirts, and in ten-hour-long videos of nothing but nyan nyan nyan nyan nyan. That was a long time ago; eight years in fact. But soon Nyan Cat will be making a (rather tardy) return to fame through a game for the Nintendo Switch called Nyan Cat: Lost In Space. 
The new title, developed by IsTom Games, is described as "a casual, colorful platformer/endless runner." The trailer shows Nyan Cat moving steadily through the universe, collecting candy and cat treats while avoiding enemies. What's interesting is that the trailer doesn't actually show the pink poptart Nyan Cat we all know and love. Rather, it looks like there are several different skins that Nyan Cat can don. First it looks like a baby, then a mummy, then Spider-Man, and even the Joker. Did DC and Marvel sign off on this? 
Allegedly, the Nyan Cat creator signed off on this game. Back in 2013, though, when Nyan Cat was still a pretty popular meme, Warner Bros. was sued for adding the tasty cat to Scribblenauts without the creator's permission. 
Maybe Nyan Cat's change in costume will be explained in the ten unlockable Nyan Cat comics players can find throughout the game. Its version of space is a strange place, with levels themed around Halloween, ice, and what definitely looks to be some kind of Star Wars parody. We definitely saw a kitty cat Darth Vader in the background.
But that's the thing with this one: all the fun stuff is in the background. Nyan Cat: Lost In Space otherwise appears to be a pretty basic platformer, and doesn't look to be particularly challenging. We saw more milk bottles and donuts than enemies in the trailer. Maybe that's what'll set it apart.
You can find out exactly what kind of game Nyan Cat: Lost In Space is when it launches into the Nintendo Switch eShop on Nov. 28.